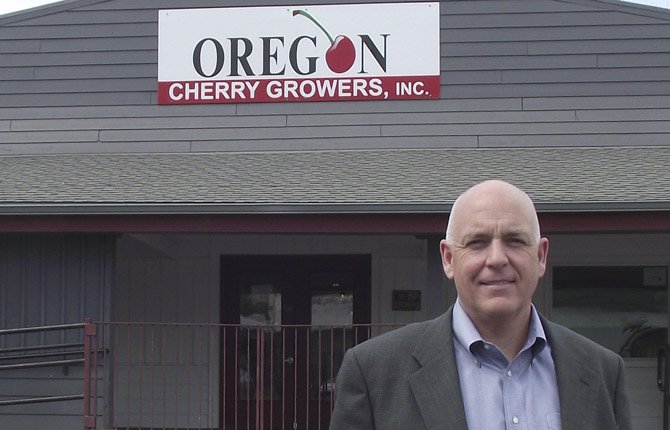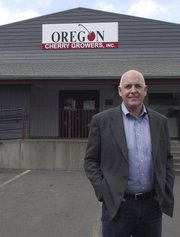 Cherry season is still a few months away, but Oregon Cherry Growers is experiencing a lot of activity on its downtown The Dalles property.
Preparations are under way to install six more brine ponds on property just north of the Sunshine Mill and the railroad tracks, according to Tim Ramsey, Oregon Cherry Growers' new president and chief executive officer. The cooperative is also in the process of clearing away a huge pile of rubble.
"We're working with the Chamber of Commerce on a landscaping and beautification process," Ramsey said. "What we want to do is make sure that the area is contoured to look like and be consistent with everything else."
In addition to being the second largest private employer in the city, Ramsey said Cherry Growers also wants to be a better neighbor and help the downtown area.
The exterior improvements are only part of the Cherry Growers changes.
"As you know, over the course of probably the last 20 years we've had some tumultuous times," Ramsey said. The organization has been internally focused as it worked to become more financially healthy.
"The past three years we've been able to provide a good grower return and pay dividends," Ramsey said. "We are at the point in time now when we are looking forward to growth."
That growth will come from innovation and product diversity, he said.
"Cherries will always be our mainstay. But given the infrastructure, how can we continue to diversify our product portfolio?" Product diversity is a good hedge against the challenges of a bad cherry crop year, Ramsey added.
The cooperative also plans to add more cherry capacity and develop higher-value markets for its products.
As an example, Ramsey refers to the highly competitive maraschino cherry market. A less saturated segment of that market is a maraschino cherry using natural ingredients that Cherry Growers markets under the Royal Harvest label. The cherries use sugar that has not been genetically modified and other all-natural ingredients.
Dried fruit, including cherries and blueberries, is one of the firm's more successful product sectors. Through an infusion process that takes place at the Riverside plant on Bargeway Road, sugar and flavor are added, then the fruit is either frozen or dried.
Ramsey's management team is working to expand the markets for those products. Costco is a feather in their cap, recently becoming a new customer of Cherry Growers.
The fruit is also used as ingredients in other products. For example, Cherry Growers provides cherries for about 80 percent of the ice cream brands produced in the United States.
"We have special cherry blends for [brands] like Ben and Jerry's and Dryer's," Ramsey said.
Business in The Dalles branch of Oregon Cherry Growers has been increasing, he noted.
"We're not planning on moving anything out of The Dalles," he said.
The work here centers on becoming more efficient and the new brine ponds will play a role in that process.
Eventually, Ramsey hopes to get rid of the unattractive wooden brine tanks that front Interstate 84 and replace them with more brine ponds. Workers have also been getting rid of some of the brine bins. Often now, cherries are brined right at the orchard and hauled by truck to Cherry Growers, Ramsey noted.
Ramsey has a lot of food industry experience to draw from in working to expand the Oregon Cherry Growers' portfolio. He started working with Gallo Winery, served at Tropicana, and at the packaged produce companies Fresh Express Farms and River Ranch. For the past 10 years, he has been working with Pacific Natural Foods, one of the larger pioneers in natural food production.
"It's enlightening for me, coming and working for a cooperative," Ramsey said. "This truly is grower-owned. In the farm-to-fork story, they're it. No one takes better care of quality of ingredients than owner-farmers."
Ramsey said he was also impressed with the longevity of the Oregon Cherry Grower employees, some of who have worked at the processing plants 35 or 40 years. He said he also sees a very collaborative, team approach.
"Everyone is working together from the different departments," he said. "You just don't see that that often."
Ramsey hopes to see more growers return to the cooperative in coming years.
"Among the current members, I think they're very encouraged with our financial success over the last couple of years."
Ramsey hopes to continue to group the cooperative and build trust.
"Hopefully, we'll earn their respect and have some of the growers join the cooperative," he said.
A grower-members meeting is coming up at the end of April.
"Our theme is 'Grow with us,'" Ramsey noted. "We're at the point now where the co-op is in a terrific position for our current members, and any new co-op members to grow with us."