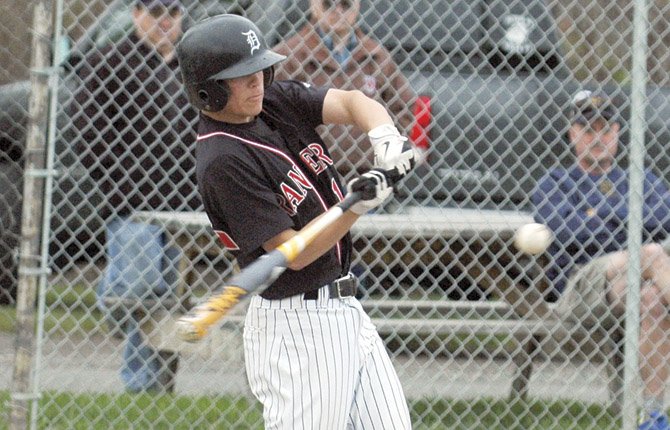 Call them Dufur's Bash Brothers.
Josh Keyser, Bradley Newman and Nick Little each slugged home runs to spearhead the Rangers' 10-hit attack for a 13-8 comeback triumph over Horizon Christian in league baseball action Tuesday at Dufur City Park.
Through the seven innings, there were four ties and five lead changes, but Dufur had the final flurry in the sixth inning.
"It is good to see everyone out there working hard and coming back after Horizon Christian scored runs and whatnot," said Dufur slugger Trever Tibbets. "That was pretty good for us to respond that way."
After leadoff hitter Cole Parke was walked four times, twice intentionally, the Rangers needed other hitters in the lineup to come through with some big hits.
The sixth through ninth hitters went a combined 4 for 12 with three walks, two home runs, two stolen bases and seven RBIs.
"All of the other guys delivered. That is what teams are supposed to do," said Dufur head coach C.S. Little. "There were some guys who came in and hit the ball well. Any time you have several kids out there hitting the ball well, good things happen."
With the Hawks leading 2-1, Keyser started the fireworks with a solo shot off Horizon pitcher Jake Wells — a blast that flew more than 360-feet over the bushes in right centerfield to even the count at 2-2.
After Dufur tied the score, Horizon added two unearned runs off Dufur reliever Jake Kortge to make it 4-2.
The score remained 4-2 until the bottom of the fifth frame when the Rangers sent 10 batters to the plate.
With the bases loaded and no outs, Trever Tibbets scored on a wild pitch to inch Dufur to 4-3.
With the bases loaded again, Little hit an RBI sacrifice fly to center to score Nathan Duling, who reached on an infield single to tie the score at 4-4.
Kortge was at second base and Kolby Bravos stood at first with only one out and Newman, the No. 9 hitter, at the plate.
On the first pitch he saw from Horizon's R.J. Hicks, Newman tomahawked a deep drive to right centerfield.
The ball had bounced over the line barrier and was originally ruled a ground rule double.
After deliberation, the umpires overturned the call and awarded Newman with a three-run home run to put the Rangers ahead by a 7-4 margin.
That long ball represented much more than just his first home run; it ended a dubious streak of 13 consecutive at-bats with a strikeout.
"I was just trying to break my 13-strikeout streak, so getting a hit is all I was looking for," Newman said. "It turned out to be a home run, so that felt pretty good. It is a big accomplishment for me. That was my first career high school home run, so it means a lot, especially in this game when the team needed it."
There was little celebrating however, as the Hawks battled back in the top of the sixth to regain the lead on three hits that combined to go as far as 120-feet.
Grant Lynn drove in two runs on a line drive that careened off Parke's glove on the mound.
Then Ian Rasmussen added an RBI infield single and Hicks capped the frame with an RBI infield single to plate Micah Engel to give Horizon an 8-7 advantage.
With Engel on the hill looking to hold up the Hawk lead, Dufur swung away at the right-hander for six runs on three hits.
Duling scored on a RBI single by Bravos to even the count at 8-all, and then Little slammed the first pitch he saw from Engel with a booming shot to right field for a two-run home run to give Dufur a 10-8 lead.
Parke later scored on an RBI single by Keyser to make it 11-8, and Keyser and Bryson Caldwell scampered home on a fly ball error to right field to end the scoring surge.
Up by five runs, Parke faced four batters, with two strikeouts and a pickoff of Wells at second base.
Overall, Dufur (6-6 overall, 2-1 league) totaled 10 hits with Keyser going 2 for 4 with a home run, a walk, two RBIs and two runs.
Bravos added a 1 for 1 split with three walks, an RBI and a stolen base, and Parke had a hit, four walks and two runs scored.
Parke followed the Rangers starter Caldwell and Kortge, the middle reliever, and he tossed three innings for the win.
The junior hurler struck out five, walked two and allowed four hits. Three of the runs allowed were unearned.
For Horizon Christian (2-5, 0-3), Engel, Rasmussen and Hicks had a hit and a run scored each. Wells also added a hit apiece, while Lynn, the No. 9 hitter, had a hit, a walk, a stolen base, scored twice and drove in two runs.
Through 12 games this season, coach Little has seen a little bit of everything from his squad.
He is quick to point out that this team is still very young — five sophomores are getting extensive playing time, so there will be some bumps along the way.
"We are still young. I wasn't sure if they would be able to come out and compete when the chips are down," coach Little said. "They showed me that they can come back. There were several times in the game where they could have easily given up, so I challenged them in the huddles. They came out and competed, so I am pleased with that."
Huskies use late heroics again
When the game is on the line, Sherman senior Riley Brown seems to shine.
Brown broke a 4-all tie with a one-out, two-run double in the bottom of the sixth inning and Husky closer Austin Kaseberg shut a late threat down to uphold a 6-4 victory over Heppner in Blue Mountain Conference baseball play in Arlington.
The win matches Sherman's total from the 2012 campaign – a notion not lost on the mind of long-time skipper Joe Justesen.
"We have come a long ways with this group," the coach said. "We just keep fighting for everything that we got. I told them as long as they come to play every day, we can compete with anybody."
In the decisive sixth with the game deadlocked at 4-4, Nick von Borstel led things off with a double to right centerfield.
On a groundout, von Borstel advanced to third base, and then Nick Coleman followed with a walk to put runners on the corners for Brown.
Coleman swiped second base to put himself and von Borstel in scoring position.
Brown then roped a deep drive that sailed a foot from going over the fence, but his smash was good enough for two bases and two RBIs.
Two outs later, Brown ended up stranded at third base, but Sherman had a two-run advantage headed into the bottom of the seventh inning.
Husky pitcher Jared Davis came out to finish the win in the seventh and promptly retired the first two batters of the inning on a groundout and a flyout.
However, Davis walked the next two batters and allowed a bloop single to left to load the bases.
Sherman coach Joe Justesen made the call for Kaseberg to seal the win.
Three pitches later, Kaseberg had induced a game-ending comeback for the final out.
Sherman began the day down 3-0 through half an inning, but rebounded with two runs each in the first and second frames to lead 4-3.
Heppner evened the count at 4-apiece with a single run in the fourth frame and the score remained tied until the sixth.
The Huskies totaled five hits, as Brown led the way with a 1 for 3 effort with a double, a run and three RBIs.
Coleman added a hit and two runs scored, von Borstel went 1 for 3 with a double and a run scored and senior Shae Morava added a run scored.
Coleman got the starting nod on the hill for the Huskies.
The junior right-hander tossed five innings of two-hit ball with six strikeouts and two walks. Of the four runs allowed, only one was earned.
"Our pitchers threw strikes. Nick Coleman pitched a heck of a game today," Justesen said. "He pitched himself out of a couple of little jams early and kept them at bay. He did a nice job of moving the ball around."
Sherman (3-4 overall, 2-1 league) heads to Dufur for a doubleheader at 2 p.m. Friday against the Rangers.