WILLAMETTE ZONE VIEWING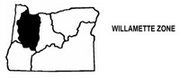 EVENTS
WETLANDS BIRD WALK, Saturday, April 13, Smith and Bybee Wetlands, 9 – 11 a.m.
Join Metro naturalist James Davis for a walking tour of this wetlands area in north Portland. During spring about 30 bird species migrate through the wetlands or join year-round residents for nesting. Registration and payment of $6 per adult or $11 per household required in advance. For more information, call 503-220-2781.
WETLANDS TURTLE WALK, Saturday, April 13, Smith and Bybee Wetlands, 1 – 2:30 p.m.
Smith and Bybee Wetlands is home to one of the state's largest Western painted turtle populations. See these beautiful reptiles with the help of Metro naturalist James Davis. Registration and payment of $6 per adult or $11 per household required in advance. For more information, call 503-220-2781.
MT. TALBERT NATURE WALK, Wednesday, April 17, 8 – 11 a.m.
Join Ron Escano and the Audubon Society of Portland on a walking tour of Mt. Talbert Nature Park to look for early spring migrants. Directions: From I 205 exit 14- Sunnyside/Sunnybrook off ramp, turn east on SE Sunnybrook Blvd. Turn south on SE 97th Avenue. Continue south on SE 97th which turns into SE Mather Road. Entrance to Mt Talbert Nature Park is on the north side of the road, about 1/4 mile after SE 97th changes to Mather Road. Dress for the weather and beginners welcome.
VALLEYWIDE
Wild turkeys are actively strutting and courting during this time of year. These birds were introduced into Oregon from other parts of the US where they are native. These birds are widely established in the foothills around the edge of the Willamette Valley. Look for them where there is a mix of wooded areas and pastures. Mixed hardwoods, especially oaks, are preferred over conifers. Tall pines or fir trees are often used for night roosts. Fortunately, turkeys are most active and easiest to see on warm sunny days! Landowners beware! While turkeys are fun to watch and have around, if you feed them you may create a serious problem for yourself and your neighbors. Turkeys will often become a serious nuisance when they concentrate in an area because they are being fed. Turkeys that are not fed will range widely and rarely cause such problems.
Three species of garter snake occur in the Willamette Valley. They are the most commonly seen snakes. Much variability in coloration exists in garter snakes but the best identifying characteristic is a stripe down the middle of the snake's back. No other snake species in western Oregon has a stripe down the middle. A good place to see these harmless snakes is on gravel roads and trails through wetland areas. Wildlife areas in the Willamette Valley such as Fern Ridge, Finley, EE Wilson, Baskett Slough and Ankeny are all good areas to see these beautiful animals. Best viewing conditions are on warm sunny days.
Ospreys are now returning to northwest Oregon from their wintering grounds in Central America. Ospreys mate for life and are building nests, which can be observed on the tops of communication towers, power poles, and broken off trees. 
Turkey vultures are also on the move this time of year. Turkey vultures are migrating northward to their breeding grounds. Watch for these large birds on drier days riding the thermals and imagine what our world would look like (and smell like) if there were no turkey vultures to clean up all the dead critters!
Many of the migratory songbirds will begin returning to the area in the next few weeks. Good places to see these birds include Skinners Butte Park, Spencer Butte, Fern Ridge Wildlife Area, Howard Buford Park, Elijah Bristow Park, Brown and Minto Island Park, and Ankeny, Finley and Baskett Slough National Wildlife Refuges.
During April, listen closely for the musical call of sand hill cranes as they pass through the valley on their way north. Large flocks can be seen flying very high. They occasionally land in fields east and north of Salem for a few days of rest. 
Continue to look for signs of spring―blooms on trees and the arrival of sparrows, tree swallows, robins and hummingbirds. 4/9/13.
Corvallis Area
EE Wilson Wildlife Area
Wildlife viewing is good with waterfowl, shorebirds and neotropical migrants beginning to arrive. Deciduous trees do not have leaves allowing better viewing. Note: dogs are required to be on a leash inside the wildlife area boundary.
Starting April 1, people can use the photography blind on the Wildlife Area. Staff will feed daily so there will be good photo opportunities for waterfowl including mallards, wood duck, hooded merganser, ring-necked duck, western Canada goose. Broods are common. Snipe and other shorebirds are periodically seen. Call the office to make a reservation, (541) 745-5334.
Find directions to EE Wilson Wildlife Area.
Sauvie Island
Sauvie Island Wildlife Area
NEW: Migratory sandhill cranes are still on the island in large numbers and are doing their mating dance. The great blue heron rookery is visible from the S-turn by Marshall beach with nearly 200 birds. Herons generally nest (roost) in colonies in large trees. The hummingbirds have arrived along with the migratory song birds.
Bald eagles and red-tailed hawks are very active on their nests in anticipation of their new arrivals. There are approximately 10 active eagle nests on the Wildlife
Area. The osprey continue to increase, look for their nests on the platforms on top of power poles.
Viewing areas currently open to the public are Coon Point, the Eastside Viewing Platform and Rentenaar Road. The hiking trail at the end of Reeder Rd which leads to Warrior Rock Lighthouse remains open year around. The majority of the wildlife area is scheduled to open on April 16, 2013 and the eastside units within the levy system will open on May 1, 2013.
A parking permit is required for the Sauvie Island Wildlife Area and can be purchased at ODFW license agents. Find directions to Sauvie Island Wildlife Area on the ODFW Web site.