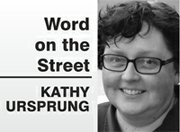 In the middle ages people were tourists because of their religion, whereas now they are tourists because tourism is their religion.
— Robert Runcie
Possibilties, not guarantees: Tour boats begin mooring at the Union Street marine terminal just a week from today. Every other Monday overnight stays begin the week after that on April 22. Those facts don't guarantee the passengers will drop by any particular store in The Dalles, but Dolores Habberstad has a few suggestions that can help make the prospect more enticing — without costing an arm and a leg.
A longtime The Dalles travel agent, Habberstad has traveled widely and garnered a few ideas along the way.
"This year, we can make it happen for the future by recognizing the importance of welcoming people into the community from all over the world," Habberstad said.
Clean and welcoming are two key concepts, she noted. A simple banner in the store window saying "Welcome Queen of the West passengers" is one simple, inexpensive way to make the town more welcoming and can serve through the spring and summer months, until two other cruise lines begin arriving in September.
She also suggests shop owners stock up on small items that can provide a unique memory.
"People on vacation are looking for things to take home that are unique — books, photos, western wear — anything you can put in as an enticement for people to come visit."
Staying open later or offering live music Monday evenings so people can enjoy after they return from daytime tours are other ways to make the community more welcoming for this regular influx of visitors. And while guests will be greeted with packets of information about the businesses and attractions of the area, Habberstand encourages business owners and staff to become knowledgeable about the area's businesses and attractions, so they can serve as a helpful presence in the community.
Habberstad also hopes to see artist's booths at the festival area the evenings when the boats are docked.
These kinds of efforts can help make The Dalles a welcoming, fun and engaging community where boat passengers will want to spend some time and money, she said.
The Dalles will host another Reconnect with the River festival on Oct. 5, with a ship berthing here overnight that evening, so that might be a day to put out a special effort, Habberstad noted.
April and May arrival dates include:
Wed., 4/17 (Noon - 6PM)
Mon., 4/22 (1PM) - Tues., 4/23 (8AM) - Overnight
Wed., 5/01 (Noon - 6PM)
Mon., 5/06 (1PM) - Tue., 5/07 (8AM) - Overnight
Wed., 5/15 (Noon - 6PM)
Mon., 5/20 (1PM) - Tue., 5/21 (8AM) - Overnight
Wed., 5/29 (Noon - 6PM)
Health insurance questions? A presentation on "What You Will Need to Know to Select Health Insurance" is planned Wednesday, May 22, at the Columbia Gorge Discovery Center.
The event is geared toward covering the basics for businesses with 50 or fewer employees.
Rick Rebel, a licensed employee benefits consultant, will offer information including:
• a historical overview of small group reform in Oregon,
• how the PPACA impacts small groups,
• tax credit for small employers,
• federal subsidy for individual coverage,
• how small groups are rated,
• the Oregon Exchange (renamed Cover Oregon).
Rebel will also answer questions from the audience. Seating is limited. Register through Columbia Gorge Community College by calling 541-506-6011.
Ecology for breakfast. Columbia Gorge Ecology Institute representatives are the special guest at the Government Affairs committee meeting of The Dalles Area Chamber of Commerce, Thursday, April 11, 7 a.m. at The Barbecue Restaurant.