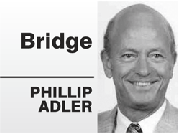 Colin Hay, a Scottish-born musician who came to prominence as lead vocalist of the Australian band Men at Work, said, "I don't walk off and come back for encores. I figure I can add four weeks to my life that way."
In a bridge column, though, encores can help to reinforce the point being made by the writer.
When the dealer opens one of a suit and two passes follow, if fourth hand overcalls two no-trump, it shows a hand worth a two-no-trump opening bid — as in this deal.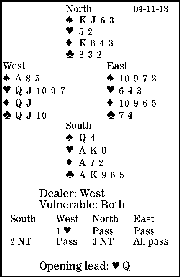 North might use Stayman, but chooses to raise to three no-trump. After West leads the heart queen, how should South plan the play?
The difficult part of this deal is thinking of the right play. Declarer starts with six top tricks: two hearts, two diamonds and two clubs. There are two more tricks available in clubs, assuming a 3-2 break, but one spade winner is also needed.
If South immediately concedes a club trick, West clears hearts and defeats the contract when in with the spade ace. If South leads his spade queen, West wins and establishes his hearts; the contract still fails
Instead, because West is marked with the spade ace from his opening bid, South must start with the low spade from his hand. If West goes in with the ace, declarer has nine winners via three spades, two hearts, two diamonds and two clubs. Whereas if West ducks, declarer wins in the dummy and switches to clubs. His nine tricks are one spade, two hearts, two diamonds and four clubs.