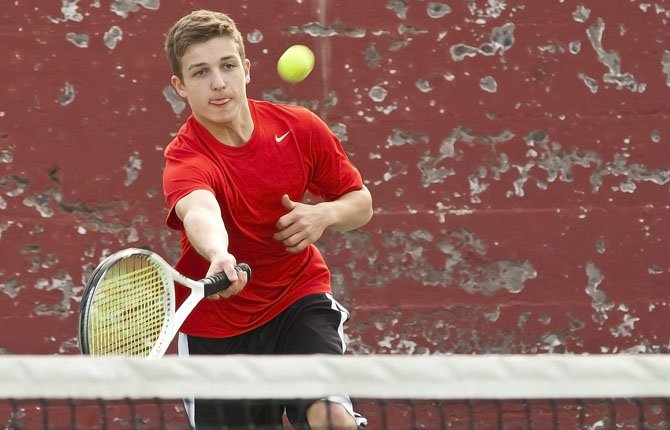 Aside from an injury suffered by Griffin Martin, The Dalles Wahtonka boy's tennis team never gave an inch in an impressive 7-1 drubbing of Hood River Valley in varsity tennis play in The Dalles.
All of the wins were in straight-sets and the most set points allowed was five, which happened once.
"I thought coming off our last loss to Hermiston, that we came out a little more ready to play," said TDW head coach Andrew Hughes. "We had a good week of practice and it translated to us playing some very good tennis. I was real happy and pleased about that."
In his No. 1 tussle, Martin had to retire in the second set of his duel against HRV's Scottie Ziegler in a showdown between two of the better players in the area.
Ziegler clinched the opener by a 6-2 score and led 4-3 in the second set before an ankle injury forced Martin out of the match.
In the rest of the Tribe's singles games, the outcomes were dominant.
Carlos Barajas played a solid overall game in a 6-1, 6-0 victory over Victor Garigo at No. 2 and foreign exchange student Ben Dlala dropped Will Ferrick by easy scores of 6-2, 6-1.
In his No. 4 singles contest, Cole McDowell used his devastating first serve to manhandle Jorge Calderon, winning by tallies of 6-0, 6-0 in a rare whitewash.
Just as the singles did earlier on the day, the doubles teams could not be denied in lopsided matchups.
"I don't know if it was the pairings or if the kids are seeing great results due to their hard work," Hughes said. The kids have been working hard at their net game and they have been more consistent serving."
Chava Vasquez and Jose Santillan hardly broke a sweat in their No. 1 game with a 6-3, 6-1 winner over Marten Sova and Cooper Holzman.
Christian Munoz and Ethan Semlor combined forces for the first time all season and looked to in playoff form with a 7-5, 6-1 triumph over HRV's Billy Edwards and Patrick Humann in what turned out to be TDW's closest winning match.
William Coy and Fernando Lopez added to the winning side with a 6-1, 6-0 winner over Cole Sheppard and Brandon Campos.
At No. 4, the tandem of Antonio Argueta and Milo Romney cruised past Jonathan Hale and Nate Miller by scores of 6-1, 6-3 to complete the doubles sweep.
The winning run kept moving in the junior varsity bracket, where TDW's Daniel Spurr and Caleb Turner came through in their pro-set contest with a close 9-7 decision.
"It was a really good outing for us," Hughes added. "We had a dominating performance against one of our biggest rivals in tennis," Hughes added. "We had solid play all around. Hopefully we can build on this when we play Pendleton on Thursday."
After today's league tennis match in Pendleton, at 4 p.m. Tuesday, TDW hosts Hermiston.