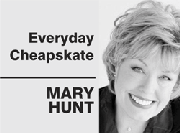 Dear Mary: I am trying to find recipe substitutes for the popular creamed soups, like cream of celery, cream of mushroom, etc. These condensed soups are killing my budget. I don't even want to pay a buck a can for the generic option at Walmart! — Nikki, Colorado
Dear Nikki: Here's a bulk recipe to use in place of canned cream soups in casseroles and other recipes. Mix 2 cups powdered nonfat milk, 3/4 cup cornstarch, 1/4 cup instant vegetable bullion, 2 tablespoons dried onion flakes, 1 teaspoon dry basil leaves, 1 teaspoon dry thyme leaves and 1/2 teaspoon ground black pepper. Store in an airtight container until ready to use.
To substitute for one can of condensed soup: Combine 1/3 cup dry mix with 1 1/4 cups cold water in saucepan. Cook and stir until thickened. Add to your recipe as you would one can of soup.
Yield: Equivalent of nine cans of soup.
Variations:
Mushroom soup — Add 1/2 cup finely chopped mushrooms.
Celery soup — Add 1/2 cup minced celery, cooked.
Potato soup — Add 1 cup diced potatoes, cooked.
Vegetable soup — Add 3/4 cup mixed vegetables, cooked.
Broccoli soup — Add 1 cup chopped broccoli, cooked.
Asparagus soup — Add 1 cup chopped asparagus, cooked.
Recipes for other popular mixes are featured in a booklet I put together called "Make Your Own Mixes." We've made it available as an eBooklet, downloadable to your computer for $3.99, or as a printed booklet for $7. To order either version, visit our bookstore at DebtProofLiving.com; call 800-550-3502; or send your check or money order to Debt-Proof Living, Dept. Mixes, PO Box 2099, Cypress, CA 90630.
Dear Mary: Several years ago, I found in your column a shower cleaner that combines 1/4 cup Pine-Sol and 1/4 cup bleach with 28 ounces of water. I have happily used it ever since with very good results. I recently read that combining Pine-Sol with bleach creates chloroform. Is this true? If so, what can I use as a substitute to clean my shower? — Brenda, email
Dear Brenda: I have thoroughly searched all of our archives back to 1997 and do not find this recipe at all. Thankfully. I know that mixing bleach with other products can be problematic and have always cautioned readers against this.
My search did turn up a couple of alternative shower cleaners for you:
Lysol Toilet Bowl Cleaner with Bleach (it comes this way from the manufacturer) is a great shower cleaner, especially around the floor where gunk and scum accumulates.

To clean all surfaces in your home (excluding wood), add 3/4 cup Pine-Sol liquid cleaner to 1 gallon water. Fill spray bottle to use. Rinsing isn't usually necessary. This is much cheaper (and just as effective) as using pre-filled spray bottles you buy.
Chlorine bleach mixed with ammonia forms chlorine gas, which can be deadly. I do not know what is in Pine-Sol. So my rule is: When in doubt, don't.
Do you have a question for Mary? Email her at mary@everydaycheapskate.com, or write to Everyday Cheapskate, P.O. Box 2099, Cypress, CA 90630.