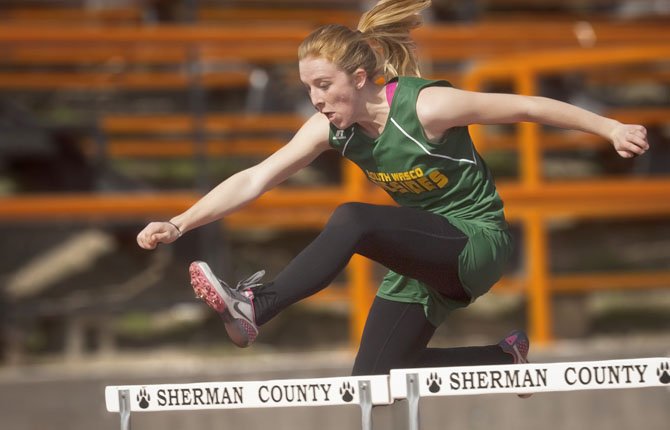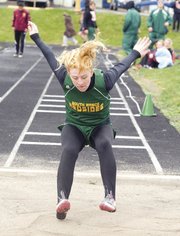 While facing three other teams in a higher classification, South Wasco County rattled off 20 top-3 finishes, including three individual wins and a relay victory in Tuesday's Culver Tri-River Meet at Culver High School.
In addition to the solid times and distances, the girl's 4x400-meter relay team moved their ranking up to sixth in the 1A world.
Colton Nannini kicked off a winning trend for the Redsides in his try at 3,000 meters. He secured top honors in a time of 12 minutes and 8.90 seconds, a mark that was nearly 10 minutes better than his next opponent was.
Former state qualifier Colby Crowell showed his moxie in the discus event where he had a first-place toss of 117-feet.
Also taking high honors in the relays was the quartet of Crowell, Clyde Sinclair, Loreto Morelli and Travis Hayes, who motored home in 3:53.00 for a runaway winner.
Tatum Hahn, Katherine Popchock, Zoe Morelli and Joy Kelly added a season-best mark of 4:47.24 for second place in the 4x400 relay, which put them right behind Culver (4:25.10).
It appears that this 4x400 group is setting up for some fruitful efforts, as the 4:47.24 puts them at No. 6 in the state, best in the Big Sky, and markedly better than last year's score of 5:30.20.
Nannini placed second in the 1,500 with a 5:03.00 and he tacked on a 49.70 for second in his attempt at the 300-meter hurdles.
In the same 300, Devan Dammann finished third at 52.00 and Brody Myers ambled in at 1:03.18 for fifth place.
Dammann ended up in second place for his try at 110-meter hurdles where he timed in at 22.30, in front of fellow freshmen Ellis Rager (22.95) and Myers (23.64).
Hayes kept his good vibes going in the triple jump, where he sailed 35-07.50 for second place, a mark that put him ahead of Rager (31-06) and Myers (30-09).
Rager garnered a top-3 outcome in his javelin toss, with a marker of 119-03 setting the stage.
Hayes had a 59.22 in the 400, Sincliar cruised in fifth for a 25.95 in the 200 and Terrance Conley threw a 33-08 in the shotput.
For the SWC girls, Popchock, Kelly and Zoe Morelli continued their ascension with some solid early-season marks to their record.
Morelli netted the only winning time of 55.37 in the 300-meter hurdles, her first season in the event.
The junior added a silver medal in the 400-meters (1:05.83) and 200-meters (29.22).
Also in the 400, Hahn grabbed third with her 1:09.14 and Kelly was right behind in fourth at 1:10.46.
Hahn crossed the tape in her 800-meter run with a marker of 2:54.79, and Kelly scampered home in a 2:57.58 for fourth place.
Popchock tallied second in her triple jump event with her longest leap going 30-11. Paris McCartney had a 69-00 for fifth in javelin and Cheyenne Emerson had a throw of 63-11 to put herself in sixth place.
With added depth on the roster, the relay teams could be a dimension that could do some damage on the district front.
In the 4x100 relay, Kelly, Popchock, McCartney and Hahn matched wits and wound up second with a 57.84.
SWC next heads to Stanfield along with Sherman and Dufur for a meet starting at 11 a.m. Friday for the Dick Horyna Invitational.