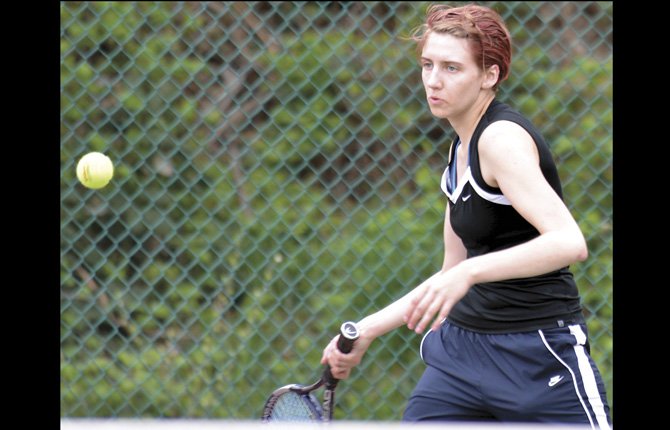 The Dalles Wahtonka girls have several reasons to feel as though they are making progress on the 5A tennis front.
Tuesday's varsity match at Hood River Valley High School featured the comeback of M.J. Murillo, a spirited effort from Anna Miller and a decisive win by the No. 1 doubles team of Katie Mazeski and Johanna Wilson in the Tribe's 7-1 loss to Hood River.
In their opening set against Hood River's Naomi Greenwald and Elle Webb, Mazeski and Wilson made quick work with a 6-0 whitewash to grab an early edge.
With a chance to pull off a sweep, the Eagle Indian duo played a close set in a back-and-forth slugfest, but managed to get the bounces needed to complete the straight-set winner, 7-6.
TDW head coach Debby Jones called it a great win by her top doubles tandem.
"The two came out very strong in the first set and clearly dominated," Jones said. "[I] felt great about their ability to control the action. [They] just did not make any errors. Hood River upped their level of play and Mazeski and Wilson had to dig deep to win the match in two sets."
Anna Miller put herself in contention for a big comeback win in her No. 1 singles match versus Hood River's Emilee Ziegner in a gritty three-set marathon, but fell just short.
The Hood River standout churned out a 6-3 decision in the opening set, and Miller evened the count at 1-apiece with a 6-3 score to send this tussle into a decisive third frame.
Unfortunately for Miller, her good fortune would come to an end in the finale, as Ziegner salvaged a 10-4 winner.
"Anna Miller played a strong, consistent match and barely lost in the third set," Jones said. "She is learning from each match and is beginning to become a very mature sophomore player, as she challenges herself against older and more experienced players."
Also in the singles bracket, Shania Lewis lost by 6-2, 6-1 to Claire Rawson and Brittany Watkins suffered a 6-0, 6-2 setback against Siena Harlin.
At No. 3 singles, Murillo could not gain any momentum in her return to the court, as Miranda Starr wound up taking a 6-1, 6-3 victory.
"It was great to have M.J. Murillo back in action and though she had a tough loss at No. 3 singles, she will definitely help bring much needed depth to the overall team," the Eagle Indian coach stated.
On the doubles side, Hood River scored three consecutive triumphs to add to their standings.
Itzy Hernandez and Alma Lopez lost 6-2, 6-3 and the Tribe team of Cinthia Vazquez and Abi Herriges dropped a 6-0, 6-3 No. 3 match versus Sophie Oswald and Vanessa Sandoval.
At No. 4 doubles, Leslie Luna-Lopez and Rebecca Kohltfarber had a tough time in their match against Emma Cameron and Maddy Graham, with the Hood River tandem working a 6-1, 6-1 split for the straight-sets score.
TDW ended up losing all four junior varsity matches, but the closest margin came at No. 8 where Maria Romero and Lupita Madrigal lost by an 8-2 tally.
Jones said even though the results have not been the greatest, her goal is building for the future.
She is sure not to lose sight of that and wants her roster of six freshmen and three sophomores to know the same thing.
"Many people might find it difficult to keep showing up for practice and matches when the results have been lopsided for the most of the season so far, but our goals are not just for this season," Jones said. "We have not been able to start cashing in on the wins yet, but character and desire are starting to take hold."
TDW hits the court again at 4 p.m. today in The Dalles for a league match opposite of Pendleton in what Jones said would be a challenging task.
At 4 p.m. Tuesday, the Tribe travels to Hermiston.