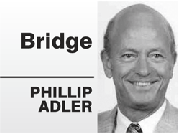 Virginia Woolf said, "On the outskirts of every agony sits some observant fellow who points."
It is a sad fact of bridge that it does not matter how great your bidding might be. If you do not make the contract, the opponents get points.
In this deal, how should South plan the play in four hearts? West leads the spade king. East overtakes with his ace and returns his second spade. West takes this trick, cashes the club ace, and plays another club.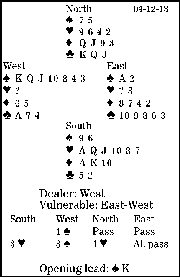 When West's one-spade opening bid was passed around to South, his balancing three-heart jump overcall was intermediate, showing a respectable six-card suit and 14 to 16 high-card points. North would no doubt have bid four hearts anyway, but West's three-spade rebid definitely pushed him into it. East let the prevailing vulnerability dissuade him from bidding four spades. (Note that four spades doubled goes down two, minus 500.)
Declarer must play the heart suit without loss. If the opponents had passed throughout, South would have taken the finesse. (A priori, East will have the heart king 50 percent of the time, but West will have a singleton king only 13 percent of the time.) Here, though, South must remember the bidding. East passed over his partner's opening bid and has already produced the spade ace. If he also had the heart king, he would have had seven points and would have responded. Therefore, West has the king of hearts. South should play a heart to his ace and claim when the king luckily drops.
Especially when an opponent opened, always check the high-card points.