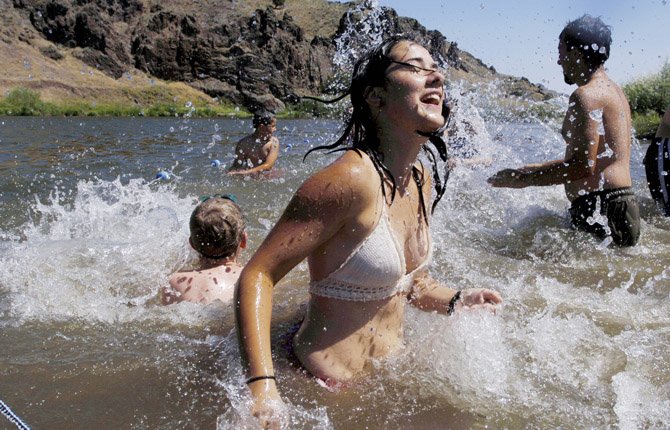 GRANTS PASS — A federal court has approved an agreement that salmon advocates hope will lead to cooler water in rivers for salmon. But whether that turns out to be the case remains a muddy question.
The federal Environmental Protection Agency agreement to review its approval of state of Oregon standards for water temperature pollution was signed Wednesday by a federal magistrate judge in Portland. EPA now has four months to review what are known as "natural" water temperature standards, which make allowances for rivers that cannot meet normal temperature standards, presumably because they just happen to have warm water.
Salmon advocates have long contended that DEQ has used those more lenient standards to avoid the tough job of making farmers and timberland owners leave strips of vegetation along streams that shade and cool the water and prevent erosion that makes rivers shallower and more likely to be warm. And they are not confident that this latest legal victory will result in cooler water for salmon.
"We hope that the agencies collectively don't try to essentially sort of accomplish the same thing they did before," said Nina Bell, director of Northwest Environmental Advocates, which brought the lawsuit. "Would I be entirely shocked (if they did)? No."
In January, Magistrate Judge John V. Acosta ruled EPA was wrong to approve those standards. They allowed Oregon regulators to accept water temperatures as high as 90 degrees as "natural," if they were not caused by some point-source, such as a factory or water treatment plant. Landowners were within the law if they followed practices set out by the Oregon Department of Forestry and the Oregon Department of Agriculture for protecting streamside vegetation.
Bell said the Department of Agriculture only takes action when someone complains, so little is done on farmland. And state logging regulations have long been criticized by federal agencies for not doing enough to shade streams and limit erosion.
Debra Sturdevant of DEQ's water quality standards program said they expected EPA to disapprove of the "natural" water temperature standard, but just what it would require remained a question.
"We agree that stream improvement needs to continue in order to support threatened and endangered species and other uses of our waters," she said. "But we think we've been making progress and doing good work in communities and landowners are going good work."