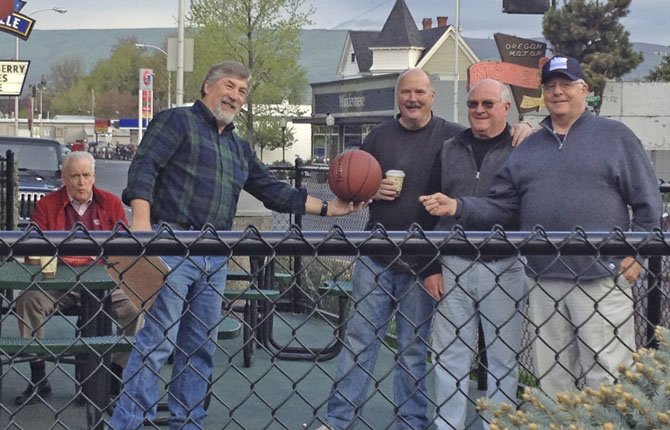 Bragging rights went to Mike Woodside on Wednesday, April 10, in what has become known among the "infamous" Burgerville morning coffee group as the Great Burgerville Free Throw Shootout between Woodside and John Hutchison.
Burgerville has a group of eight or 10 people who meet every morning for coffee and "important BS," according to information submitted by group member Rod Runyon.
"[The group] has gotten a little tired of two of its members bragging about how good they are at shooting free throws," Runyon wrote, announcing the big event.
The pair of braggarts went head to head at 7:45 a.m. Wednesday in five games of 10 shots each.
To herald the event, Wasco County Sheriff Rick Eiesland arrived with lights flashing, equipped with a defibrillator, according to a write-up by Runyon. Runyon, a county commissioner, served as scorekeeper and commentator. He also brought the hoop. He was aided by Mike Richardson, manager of The Dalles Irrigation District.
Others were recruited to rebound, including John Fulton, Milt Skov, Dave Griffith, Bob Perkins and Jack Wallace. "Mr. Fairness" Bill Booth kept everyone in line.
The event was documented in video by Wasco County Administrative Officer Tyler Stone.
Mayor Steve Lawrence made the coin flip that gave Woodside the first shot. In the first game, he stepped up and made eight of 10 shots. Hutchison managed just 4. The pattern continued through the next two games: 4-3, 6-5, both in Woodside's favor.
Hutchison caught fire in the fourth game and buried seven of 10. Woodside missed early, then needed to make four in row to tie. He calmly did just that to prompt a 2-point sudden death. Hutchison made his first shot, but his second rolled off the rim. Woodside stepped up and buried both of his shots for the fourth game win.
Hutchison managed only three of 10 in game five, while Woodside buried four of his first five to shut out the series.
"I thought I could beat him," said the 6-foot Hutchison Thursday by phone while walking a Home at Last dog. "I wouldn't have done it if I didn't think I could take Woodside. He's like 68 or 69 years old. He doesn't look like a basketball player. He looks like a stand-up comedian with a bad comb-over. I could take him. I look like a basketball player."
Hutchison said he despaired of the fact that his friend, Dave Griffith, of Griffith Motors posted the results of the event on the digital readerboard.
What Hutchison may not have been aware of is that Woodside, a graduate of the high school in Maupin, had after-hours access to the school gym thanks to a friend's connection with the janitor, they practiced for hours and hours, day after day, year after year.
"I made 50 in a row one time," he said. "If you practice that much when you're little, you just don't lose that."
Woodside avoided disparaging Hutchison.
"I'm going to take the high road," Woodside said. "I'm not going to be like him. This went on a long, long, long time."
He admitted that he warned Hutchison about the possibility of post traumatic stress.
"I told him, 'What I want you to do is bring some earplugs tomorrow when we shoot,'" Woodside said the day before the competition. "'All you're going to hear in this contest is swish, swish, swish when I'm shooting. It's going to come back at nighttime and really upset you."
Woodside said the whole event was "a lot of fun" especially with the participation of their fellow coffee klatch members. "And I love Nick, the manager [at Burgerville]; he's a superstar."
Asked about the possibility of a rematch, both Hutchison and Woodside said, "any time, anywhere."