U.S. Rep. Greg Walden wants to stop an initiative from the United Nations' 2012 World Conference on International Telecommunications in its tracks that would allow countries to tax Internet use that travels through their borders.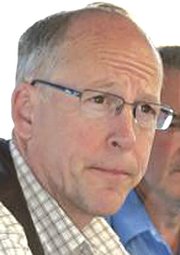 That would mean any search routed through a specific country could be subject to a tax by that country.
Since most searches originate in the United States, Walden said, "the practical effect would be to subsidize foreign governments with a tax on the Internet."
Last year, Walden said, Congress unanimously voted to approve a resolution calling on the United Nations not to regulate the Internet.
"I'd like to take that resolution and make it a statement of policy," Walden said, "to support the multi-stakeholder process that has worked so far."
Under the current governance model, Walden explained in a column in the Bend Bulletin, non-regulatory institutions manage and operate the Internet by developing "best practices" with public and private sector input across the globe.
"The structure of the Internet and the content and applications it carries are organized from the ground up, not handed down by governments," he wrote. "This allows the Internet to evolve quickly to meet the diverse needs of users around the world, and to keep governmental or nongovernmental actors from controlling the design and operation of the network, or the content it carries.
Walden credited the Internet as the biggest generator of commerce, innovation and jobs in recent years.
"I'd like to go forward without a lot of government interference," he said.
The bill is presently undergoing mark-up in subcommittee.
Walden said the proposed international rules are based on a 1980s-era treaty to intended to govern hard-wired phone calls that cross national borders.
"Although couched in terms of broadband deployment and cybersecurity, in reality such proposals could be used by countries as excuses to impose economic regulation on the Internet, and possibly even to censor speech their governments find threatening," Walden wrote. "How often have we read of oppressive regimes stifling political speech?"
In a lead-up to the 2012 negotiations, the U.S. House and Senate unanimously passed the opposing resolution to "promote a global Internet free from government control."
"That resolution is credited with emboldening more than 50 nations to join the United States in refusing to sign the treaty," Walden wrote.
Supporters of the treaty are continuing and "redoubling" their efforts, Walden said,
"That is why I am introducing legislation elevating the language from a resolution opposing proposals in a particular treaty to a permanent statement of U.S. policy."