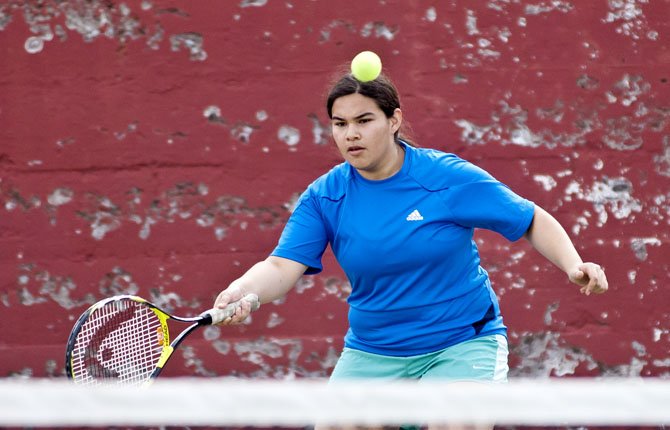 Blessed with an experienced roster that returned every varsity player for the spring season, the Pendleton Buckaroos girl's tennis team came away with an 8-0 league victory over The Dalles Wahtonka in a Thursday night 5A tennis duel in The Dalles.
Entering play, Pendleton had been a conference roll of late with decisive victories over Hermiston and Hood River Valley, so TDW head coach Debby Jones felt her group would have to take their game to the next level to scratch across a few wins.
"We knew this was going to be a tough matchup," Jones said. "We came up short, but I would have to say this was the best all-around match that we have played so far."
The closest matches came in the doubles circuit where two of those tussles nearly went to a decisive third set.
Coming off their win Tuesday, the No. 1 Tribe tandem of Katie Mazeski and Johanna Wilson went to work against Pendleton's Bailey Bixler and Miranda Muller.
The Buckaroo duo won the opening set by a 6-3 margin, but in the second set, they had to sweat it out before coming away with a 7-5 split for the sweep.
"Mazeski and Wilson definitely played their best match of the season so far," Jones said. "It was great to see their enthusiasm and confidence increase even in defeat. Mazeski was strong in the backcourt with deep lobs giving Wilson the opportunity to finish the points at the net."
Abi Herriges and Cinthia Vasquez put out a furious tennis display in their No. 3 doubles match with Pendleton's Alex and Kadysha Reyes, but lost in two sets.
The Pendleton team cruised in the opener by a 6-1 tally, but Herriges and Vasquez did not wilt under pressure and managed a comeback late in the second set, but could not complete the rally in a 7-5 setback.
Coach Jones expressed pride when going into detail about the collaborative effort of her No. 3 doubles team, saying it was a bright spot.
"Coming back to stretch the second set to the limit was a big accomplishment," Jones said. "The girls did everything they could, even taking a tumble or two in giving it their all."
In the other two doubles matches, Alma Lopez and Itzuri Hernandez lost 6-1, 6-1 in their No. 2 showdown.
At No. 4, the Eagle Indian tennis tandem of Brittany Watkins and Vanessa Ford dropped their tough match to Sam Bixler and Heather James by scores of 6-1 and 6-1.
Jones also highlighted the play of Anna Miller in her No. 1 singles contest versus highly touted Jessica Clark in what was a tough battle.
Clark grabbed the momentum, however, and pushed through for a 6-1, 6-1 winner.
Shania Lewis lost her No. 2 singles match by a 6-1, 6-0 margin and M.J. Murrillo could not buy a break in her 6-0, 6-0 loss to Pendleton's Karen Hampton.
At No. 4, Pendleton's Meagan Flanagan defeated Leslie Luna-Lopez in straight sets, 6-0, and 6-0 to cap the shutout.
"It was a rough go at the remaining singles, but the effort was there and the opportunity to improve is being taken advantage of," Jones said.
In a few junior varsity games, TDW managed to get some wins on the scoreboard with Rebecca Kohltfarber and Emma Ell-Smith grabbing a doubles victory.
Cardenas had a win in her singles match, the No. 6 doubles team of Langston and Fernandez inched ahead in their match.
"This was the match where I think the entire team began to believe in that future that has been preached and the girls are talking about playing during the offseason," Jones said. "We had an overall goal of not having any 6-0 sets and nearly accomplished that goal. (It is) baby steps, but steps in the right direction."
TDW next travels to Hermiston at 4 p.m. Tuesday.