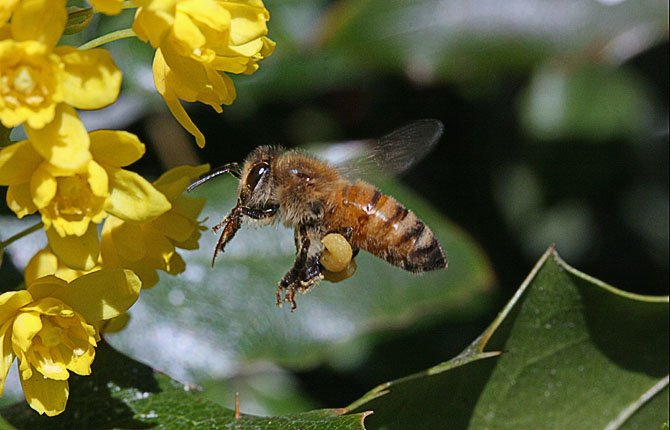 Ken Ograin tends to seven honey beehives on his 3-acre Elmira property in Lane County. Since 1996, the 71-year-old has been a beekeeper, partly to pollinate his apple and cherry trees, but mostly because he loves bees.
"They're amazing creatures," said Ograin, who is a member of the Lane County Beekeepers Association and teaches classes at the Oregon Master Beekeeper Program. "Once you keep bees long enough, you start falling in love with them."
During the past few years, however, Ograin said he's lost 50 percent of his bees during the winter. One year, he lost all seven hives.
Ograin is one of hundreds of Oregon beekeepers who have experienced the unexplained national bee loss, called colony collapse disorder.
Since bee loss started making headlines, interest in local beekeeping has increased, said Alan Turanski, vice president of GloryBee Foods Inc., a Eugene natural food producer and distributor. Nearly 4 million, pre-ordered bees will be distributed to local beekeepers at GloryBee's 38th annual Bee Weekend today and Saturday.
The 600 packages, each containing 5,000 to 7,000 bees, sold for $79.95 for a two-pound box or $95.95 for a three-pound. They arrived at GloryBee Thursday from Northern California, but the bee packages sold out two weeks ago, Turanksi said, and there are already 34 people on the 2014 waiting list.
"We've never had that before," Turanski said. "It's a peak for us."
Kristin Kokkeler, promotions coordinator for GloryBee, said the Eugene City Council's decision earlier this year to allow up to three hives on most residential lots has helped fuel the surge in beekeeping. People who were concerned about the loss of bees now had something they could do about it.
GloryBee sees this not just on Bee Weekend but daily on its website, she said, "We cannot keep our beginner beekeeping kits in stock. As soon as more become available, we sell out and have to place more work orders to increase stock."
The large-scale honeybee loss in the United States, which started in 2006, continues to puzzle scientists. Colony collapse disorder has caused beekeepers losses of 30 to 90 percent of their hives, according to the U.S. Department of Agriculture.
From 2006 to 2011, average annual losses were about 33 percent nationwide. Normal losses tend to be between 10 to 15 percent.
Although Oregon hasn't been hit as hard as some regions, Turanski said, local farmers have experienced an average of 20 to 25 percent loss.
Hives need about 10,000 bees to survive. When colony collapse strikes, the number of bees starts dwindling, which decreases the hive's chance of survival.
Researchers have yet to find a single cause for colony collapse disorder, although several recent studies point to pesticides as being a likely culprit. Other potential factors include land development decreasing the bees' available food supply and mites, viruses and other pathogens. In Oregon, Turanski said, mites tend to be the biggest problem for beekeepers who don't use lots of pesticides.
"It's a huge deal," Turanski said. "It's huge for your garden, your orchard or commercial beekeeping business."
Thanks to bee pollination, national crop values increase by $15 billion annually, according to USDA figures. Almonds, peaches, plums, apples and various vegetables are all dependent on bee pollination. Oregon blueberries and cranberries, Ograin said, are nearly 100 percent dependent on bee pollination.
Lane County Beekeepers Association President Katharine Hunt said increased interest in organic, local foods has also inspired more people to take to beekeeping.
When Hunt first started attending Beekeeper Association meetings in 1996, about 20 people would show up. Now, the group has more that 200 members.
"The promotion of eating locally has really helped to increase backyard beekeepers," Hunt said. "People are more aware and interested in eating locally. More people now are also aware of the need for more bees."
The Eugene council made beekeeping an option to most city residents when it approved in February a new urban farm animal ordinance. The ordinance allows residents to keep up to three honey beehives on lots smaller than 20,000 square feet. Beehives must be within 15 feet of a water source and must also be 5 feet from property lines. Beekeepers are not required to register with the state if they have fewer than four hives.
Springfield and Portland also allow urban beekeeping.
Hunt said she anticipates even more people will continue to take up beekeeping thanks to the new ordinance. "It will help in local gardens and fruit trees," she said. "People should see better crops."
Turanski is already planning for next year's Bee Weekend at GloryBee. The truck that transports the bees can hold only 600 packages, he said. For next year, he wants 800 packages.
"We might drive down ourselves so we can have more," he said.