Gary Ryan Blair, a motivational speaker and author, said, "Opportunities are easily lost while waiting for perfect conditions."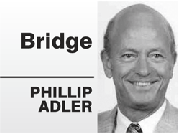 At the bridge table, you will not always have the perfect hand for a given call. You must play the percentages. If a call will probably win, go with it. But remember that nothing works all of the time.
This applies when you are balancing with a weak hand. You know partner must have some points; otherwise, the opponents would have bid higher. In this situation, first wonder what the opponents might have missed. In particular, if you are short in an unbid major, be particularly cautious. Sometimes a pass will be less expensive than a bid.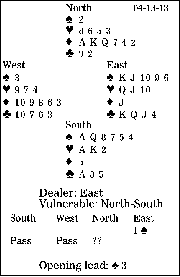 In this deal, look at the North hand. East's one-spade opening is passed around to you. What would you do?
It is quite likely that South has a strong hand with spade length that is not suitable for a one-no-trump overcall. (Perhaps it is not strong enough, or is too unbalanced.) So, you could double. But your defense is not good -- your hand has better offensive potential. And since it is unlikely that the opponents have missed a makable four-heart contract, you should balance with two diamonds.
Here, partner will gnash his teeth and jump to three no-trump.
West leads his spade. What should South do?
He has eight top tricks: two spades (given the lead), two hearts, three diamonds and one club. He can get home if either red suit breaks 3-3. After winning the first trick, he should play three rounds of hearts. Here, that works nicely.