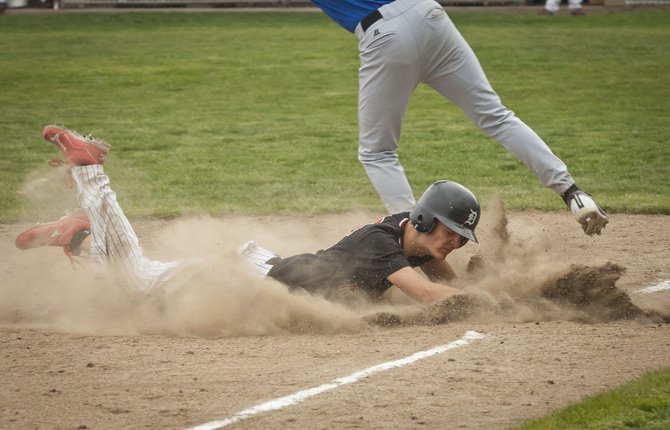 In this latest stretch of the season, the Dufur Rangers have enjoyed immense success with a four-game winning streak as they strive to make a run at a Blue Mountain Conference title.
Friday's impressive two-game sweep over Sherman put them one step closer to their goal.
The Dufur Rangers had their vaunted offense rolling in high gear with 24 hits and 27 runs in wins of 10-0 and 17-3 over the Huskies in 2A baseball action at Dufur City Park.
With this recent surge, Dufur coach C.S. Little is not worried that this team is going to become over-confident.
"They are very down-to-earth and they do not get too excited about things," the coach said. "They take the game seriously, but they don't get all out of sorts. The main thing is that they are starting to mature. The maturation process is taking its course and I am seeing great advancement on that end. I think they are enjoying the success they are having now and they are building on it."
Since overcoming a three-game losing streak earlier this month, the Rangers have outscored opponents 50-13 in posting four consecutive victories.
They also boast the state's seventh-best scoring offense (106 runs).
"We are a more focused team. We are more confident this year," said Brent Sumner. "It is very important to keep our focus. There have been times in the past where we would lose our focus and have some unexpected losses. So, if we keep it up, we can do really good."
In the opening game, Dufur broke open a 4-0 lead through four innings with three runs apiece in the fifth and sixth innings.
Nick Little scored on a bases-loaded walk by Bryson Caldwell, and then Josh Keyser drove in Bradley Newman and Cole Parke with a two-run single to run the count up to 7-0.
Only needing three runs to invoke the mercy-rule, Nick Little scampered home on a wild pitch to make it 8-0 with only one out in the inning.
Caldwell had Newman at third base and Brent Sumner at second and he rifled a walk-off two-run single to left field to close out the game.
While the offense chipped away through the course of play, Dufur pitcher Trever Tibbets stymied Sherman for six innings of three-hit ball.
The right-hander struck out a season-high 13 and walked four in his latest outing.
Tibbets struck out the side in the first two frames and only allowed one runner to advance to second base until the top of the sixth.
At that point, the Rangers were up 7-0, and Sherman rallied with back-to-back hits from Riley Brown and Eddy Lopez.
Austin Kaseberg received a walk to load the bases with one out and Nick von Borstel and Jared Davis coming up.
Tibbets buckled down, however, and fanned both batters to end the threat.
Offensively for Sherman, Lopez and Brown notched hits and Kaseberg added a hit and a walk.
Jonah Davis, Wyatt Stutzman and Daniel Aguilar also reached safely on walks.
Nick Little led the offense with a 3 for 4 effort, adding a double, two runs and an RBI.
Parke tacked on two hits, two walks, was hit once and he scored four runs.
Caldwell stroked two hits and received two walks, Kolby Bravos notched two hits and Keyser went 3 for 3 with two RBIs, two runs and a walk.
"Everything has been working for us," Bravos said. "We have been working our hitting a lot to make sure we make good contact during the game. It is good that everyone hit the ball really well today. We have been practicing really hard and working really hard. I hope that we can continue that."
In the nightcap, Sherman jumped out to a 2-0 lead on Parke, the starting pitcher, but the Rangers used three big innings in the fourth, fifth and seventh frames to post their 17-3 win for the sweep.
The Huskies looked to have an early bead on Parke, as Brown and Kaseberg started the rally with consecutive singles.
One out later, von Borstel laced a two-run single to left to move Sherman in front by a 2-0 margin.
Over the next six frames, the Huskies had five hits and three walks, but stranded nine runners, including the bases loaded in the third and fourth innings, when the contest was still close.
Parke blasted a two-run home run in the third inning to give the Rangers a 3-2 lead at the time, and when the score was 8-3 in the fifth, he hit a bases-clearing triple to make it 11-3.
One out later, Keyser drove him in with a two-out, RBI single.
Parke capped the scoring with a two-run double to center for his eighth and ninth RBIs of the game.
The junior finished 4 for 5 with two runs and wound up a single shy of the cycle.
Nick Little had two hits, two walks, Kortge went 2 for 5 with an RBI, Keyser ended his day by going 1 for 3 with two RBIs, and two hit by pitches.
Dufur had 11 hits, four hit batters and eight walks.
Sherman rattled off nine hits. Kaseberg went 3 for 4 with two runs, a double and a walk to lead the charge.
Brown had two hits, Lopez and Aguilar tallied hits and von Borstel had his hit and an RBI.
Sherman coach Joe Justesen was happy with the offense, but felt as though the pitching left a little more to be desired.
"Hitting the ball wasn't the issue," Justesen said. "Today it was throwing strikes. In the last couple of games, we cannot get all three phases going together; it is just one or the other. It was a long day. There are many more to go, so they just have to keep their head up and go work on all of the things that they struggled with today."
Stutzman, Sherman's freshman catcher, logged 13 innings and was weary from all of the action.
He is hoping for a re-energized group next week.
"If anything, these losses should motivate us to come back in practice this next week and work even harder to make sure that losses like this do not happen again," he said.