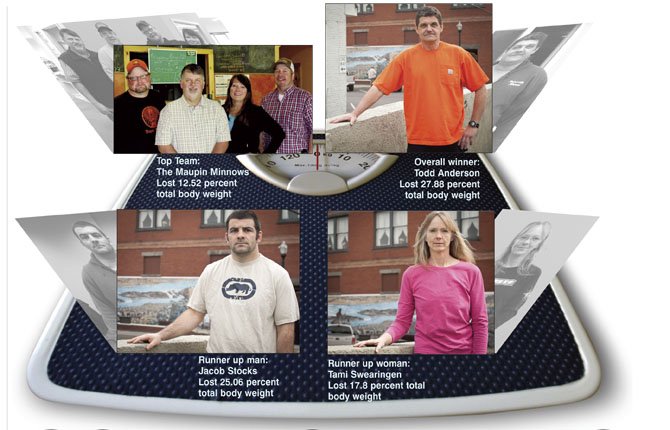 The Maupin Minnows made it a two-fer this year, repeating their 2012 victory in the Slim
By Kathy Ursprung
The four-member team, including two Tygh Valley residents, Marcia Lewis and Zack Harvey, and two Maupin residents, Henry Hachler and Bob Krein, made a collective 128.2 pounds disappear, equivalent to a 12.52 percent total body weight loss.
"They were lazy," a laughing Zack Harvey said. He was the team's leading loser, paring 16.96 percent of his body weight or 51.2 pounds. "If it wasn't for me, they would have lost!"
Harvey, who could perform stand-up comedy, said the secret to his weight loss was being "enormously overweight — it's easier to lose."
He said team captain Marcia Lewis "just badgered me into it. At first I thought she picked me because I'm devilishly handsome, now I think it was because I'm so overweight."
Harvey said he really watched what he ate — or his wife, Lindsey, did, that is.
"She's absolutely responsible," he said. "She prepares my meals. If the kids wanted a hamburger, the kids would eat hamburgers and daddy would get salads."
The first few days of his new diet were a little tough, Harvey said, and he was irritated quite a bit.
"Once I got my stomach down to where I was not wanting as much, it was no big deal," he said.
Other than that, Harvey said an active farmer's workload made it unnecessary to add exercise to the schedule.
With more than 50 pounds gone, he said it's easier now to tie his shoes in the morning. He plans to keep up with his weight-loss program.
"In the past, I've lost great amounts of weight and put it back on again," Harvey said. "This time it feels a bit different."
Bob Krein, who took second place in the 2012 Slim Down, was the second-biggest loser on his team, dropping 36.8 pounds or 13.63 percent of his body weight.
"Last year I weighed 310 pounds when the contest started," he said. "This year, I technically weighed 270 pounds when it started, but it was probably more like 260 — about 50 pounds off from the year before.
"I'm pretty happy with myself. I didn't do any weight-cutting the last week of the contest. This year, I could walk right in now and weigh the same as I did when the contest ended."
Krein said he has definitely made some lifestyle changes and plans to continue on that improved track.
His key to success was to cut out all sugar, bread and other starches, and fast food.
"It would be nice to cut all the alcohol," he said, "but …"
He described his eating method as a "modified Atkins-type diet.'
"It wasn't necessarily easy, but you make it work. The easy thing is, if you can't eat something, say 'no.'"
He also carried protein shakes to avoid having to stop, or picked up jerky or other protein.
"It's not the best, but it's way better than a cheeseburger."
During the bad winter weather, Krein also rode an exercise bike, but as the weather improved he found himself just naturally being more active.
"I'm a hunting guide and a rancher," he said. "I found, as I lost some of the weight, I did more physical exercise."
Henry Hachler, who dropped 18 pounds, or 7.31 percent of his body weight, said walking 2 to 3 miles almost every day was a key part of his process.
And while his teammates were far-flung and busy on their own pursuits, Hachler received encouragement and support from several walking partners.
Hachler also cut out all fast food, except Subway, where he would often stop for a sandwich to take home.
"But I love hamburgers, and I quit that, and I quit fries." He didn't drink much soda, so that wasn't an issue.
A particular challenge for Hachler is that he owns a deli and is exposed to burgers, fries and ice cream, another favorite, on a daily basis.
"I used to just cook a hamburger, then make myself one," he said. "I quit all that. " A big night-time snacker in the past, he also limited himself there, either munching on nuts or dry cereal.
Similar to Krein, Hachler's mainstays are lean protein and vegetables, particularly salads. He started the day with an infusion of protein, usually a couple of eggs, whole wheat toast and half a banana for breakfast.
"I feel skinnier," he said. "I've dropped a pants size."
He said the prospect of winning money through the Slim Down contest was also a motivator. He also appreciated the team text messages and weekly weigh-ins with team captain Marcia Lewis.
"That way everybody knew what the other person was doing," Hachler said.
"We terrorized each other just enough to keep each other motivated," Lewis said with a laugh.
Individually, Lewis lost 10.81 percent of her total body weight, or 22.2 pounds, by counting calories.
"Calories in and calories burned," she said.
She didn't do as much exercising as she did in 2012, when she won the Slim Down grand champion prize.
She had high praise for the team's top loser, Zack Harvey. "He looks amazing," she said. "He's done really well."
The group will celebrate its victory, for which the members received a collective $600 prize, with a big party this Sunday.
Todd Anderson: A promise to his mother
by Neita Cecil
Todd Anderson always promised his mom he'd go on a diet when he hit 250 pounds.
And, just as the scale hit that number, a group at church took him up on his casual offer to be on their team for the Chronicle's Slim Down Challenge.
Now, three months later, Anderson is 69.8 pounds lighter and $800 richer, as the overall winner of the contest. He lost 27.88 percent of his body weight, reaching his goal weight of 180.
Anderson told the ladies at Maupin Community Church that he'd join a team if they needed him. Well, they called him the day before weigh-ins started and took him up on his offer.
"I'm thinking to myself, 'How am I going to do this? I'm never going to be able to do this.' I was wondering what I got myself into," he said.
Feeling obligated, he buckled down and started counting calories, taking in no more than 1,000 a day. "I watched everything I ate. No fats, no saturated fats."
His first step was to round up all the peanut butter — his downfall — and junk food and take it to his mom's house nearby, "because I can't have this anymore."
He stayed on his strict diet every single day of the challenge.
"It was a little bit of monster willpower," he admitted.
"He was born my monster," quipped his mother, Judy Anderson, who joined the challenge on the same team, but only lost seven pounds because that's all she needed to lose.
Judy was her son's inspiration, because three years ago, she lost 120 pounds in a year by strictly dieting — avoiding meat and eating plenty of fruits and vegetables and vitamins — and has kept it off. Now she's down 127 pounds.
Todd lost weight steadily at first, then slowed down. Suspecting his Diet Pepsi of sabotaging his efforts, he switched to water, and saw his weight loss pick back up.
Then, he noticed that "the more I'm on this diet, the easier its getting."
He also began exercising more, and since he lives in the country, that just meant doing more outdoor chores.
"The second day before the end of the contest, we had a bunch of knapweed in our fields. I hand-picked two acres of knapweed — just for the exercise," he said. "Actually, part of the property I picked the knapweed off belongs to the water commission."
Anderson found that the more weight he lost, the more energy he had. "I found myself waking up at daylight and wanting to go, go, go."
He and his father — who is semi-retired — have a concrete business, but the slow housing market has put the brakes on most of their work. So Anderson has been helping out around the community.
He mows lawns and puts wood in for ladies in the area.
Judy Anderson said, "My little farm ladies say, 'I'm going to adopt him.'"
Judy said the structure of the Chronicle's contest is helpful.
"It's really nice of you people to offer prizes. That's such a thank you" to contest winners.
Anderson noted that his weight was so steadily creeping up on him, that "If it wasn't for this contest, I'd probably be 260."
Anderson has taken in a few more calories per day since the contest stopped, but he's going to buckle down and wants to lose five more pounds, since that would put his BMI in the normal range.
Anderson was sure that Jacob Stocks, the male runner-up, was going to win the contest, but he figured he'd come in second, and get $350, "I spent $175 on clothes, because I looked ridiculous."
He was walking around in size 38 pants, with the belt tightened two new notches to accommodate his smaller waist.
He started to say, "I looked like a —" and his mother finished for him, "a clown." And he agreed. "I looked like a clown."
He went from pants size 38 down to a 32, and went to a size large shirt from an extra large.
He has a bunch of old pants, from size 32 on up to 38s. He's going to box them, and keep them for a year, and if he still weighs the same a year from now, he's going to give them away.
His mother remains his inspiration in this new chapter of maintaining weight loss.
"She is my inspiration because she has kept it off. If she can do it, I can do it."
Jacob Stocks
by Jade McDowell
Jacob Stocks may be a first-timer when it comes to the Slim Down competition, but he seems to have gotten it right the first time: As runner-up he lost 25 percent of his original weight.
"I feel awesome," he said.
Stocks met his goal of getting below 200 pounds and he says he did it the old-fashioned way: diet and exercise.
"I didn't take any diet pills or anything like that," he said. "I stopped eating fast foods and stopped drinking soda. I've been mostly drinking water and eating good foods."
He has learned to cook several new healthy dishes, like a Pad Thai dish that uses spaghetti squash instead of noodles. He said eating more vegetables, less protein and fewer carbohydrates doesn't take any more time and effort than his previous eating habits.
He also did "a lot" of exercise of various types.
Stocks said he knows after such rapid weight loss he will probably gain a few pounds back but he plans to continue to eat healthily and exercise frequently to keep most of the pounds off.
In 2005 he had an ACL repair, and said one of his motivations for losing weight was to see if it would help him get around more easily. He said his knees feel better already.
As the male runner-up in the Slim Down competition he won $350, and he knows just what to do with the money: "I probably need to get new clothes now," he said.
Tami Swearingen
by Neita Cecil
Tami Swearingen, now $350 richer as the female runner-up in the Chronicle's Slim Down Challenge, didn't even know until two weeks ago that cash prizes were given to the top losers.
She just joined the contest to help a friend, and ended up losing 17.8 percent of her body weight, getting just two-tenths of a pound away from her goal.
She also did it to help herself. She's got an artificial hip and knee, and just five pounds over her normal weight causes her knee to complain. But she'd added a fair bit more than five pounds, and wanted to get the weight back off.
She'd always had luck with the Atkins Diet, which focuses on protein and cuts out the carbs. She went back on that, and before she even started Slim Down, she cut out the pop — again. "I'm back and forth, I'm a Pepsi junkie. It's bad for you."
She's also a carbohydrate junkie, but finds the Atkins Diet doable and successful. She and her dog always enjoy a nightly snack of carrots.
"We sit down and we eat a plateful of carrots and that's usually about good."
"That darn dog. Actually, I should be thanking her."
A house cleaner by trade, Swearingen, of The Dalles, is also back in school, studying to be a medical assistant. It keeps her busy and helped with weight loss.
For Swearingen, the Atkins Diet is easy to follow. She did it some years ago, and "I went down so fast and so easy. And I love meat, give me a steak any day."
She also gets her cholesterol checked each time she goes on the diet, and they're always well into the healthy range.
"It does me good, and as long as it does me good, that's all that matters. My blood pressure's good, my cholesterol levels are all good."
She used to walk more, but this time around, she didn't do a lot of exercise. She parks her car far away in the college parking lot, and takes the stairs instead of the elevator, for example.
As for getting close to her goal, she said, "I can't lose much more than that because my hip bone starts sticking out."
But she's small enough to get curious if she can fit into some old jeans – and was pleasantly surprised.
The other night she was lining up her clothes for work the next day and realized she didn't have any clean clothes. Curious, she dug out from the back of her closet some unworn, too-tight pants, thinking there was no way they'd fit.
They did.
"I pulled them on and pulled them up and thought, 'You've gotta be [kidding] me. Yes!"
As for her plans to keep the weight off, she said, "I have found my diet all my life. I have been a big girl, big boned. I believe in the meat and potato thing. I feel a lot better when I don't have the weight on. I know it's easier said than done for a lot of us, but I'm going to do my best. I'd like to lose a few more pounds, and tone up what I've got and I think next semester I'll throw in a PE class."