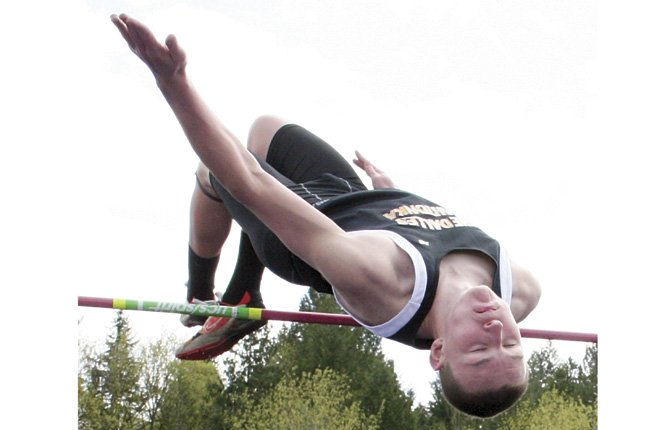 Lio Tunai maintained his stranglehold on the 5A classification's No. 1 shotput ranking with first-place honors and he added top recognition in the discus as well leading The Dalles Wahtonka track team to a solid effort in Saturday's Barlow Relay Meet in Gresham.
In the shotput, Tunai had his best throw float to 50-feet- nine inches, where he defeated his next foe, Hood River Valley's Eli Fults (50-03) by half a foot.
Joey Duong placed 13th at 36-09 and Riley Bardes was good enough for 15th in the shotput with his 36-00.
The Tribe junior nearly matched his best tally of the year (142-02 on March 16) in the discus where he scored first place in Gresham with a 141-05.
Duong had a 129-03 for fourth in discus and Bardes scored a 93-04 for 14th place in the standings.
Elijah Kohltfarber took third place in the 5,000-meters in 17 minutes and 58.63 and Zach Nerdin notched third in the 300-meter hurdles where he scooted to a 44.49 seconds for third place.
In relays, Mark Johnson, Felipe Lexow, Will McClennan and Javier Marinez put things together in 4:18.10 for third place.
Jace Bailey, Damion Morris, Nerdin and McClennan competed in the distance medley run and put forth a tally of 4:11.58 to secure third place.
Harris Farr also secured his slot in first place for the Tribe where he had a high jump height of 6-00, a personal record of two inches.
Nerdin was behind Farr in the high jump with his best effort coming in 5-11.
Farr tacked on third place in the long jump where he had a 20-01.50.
Blake Diede, Sant Strassheim, David Esquivias and Farr had a time of 46.63 for fourth in the 4x100 relay and Esquivias grabbed fourth in the javelin with a 137-09.
Rounding out the boy's team was Mark Johnson, who flew to an 11-00 in the pole vault, a tie of his personal record.
Even with a short-handed group, the Eagle Indian girls posted some respectable marks in Saturday's action.
Yasmin Hill continued her solid start to the season with third place in 15-04.
Sophomore Katie Conklin added a 4-11 in high jump, and freshman Katie Burns kicked in a 51.44 for fifth place, a shade in front of Conklin's 52.84.
Audrey Miller, Jasmine Vasquez, Rose Stephens and Alyssa Carrico combined for a 5:22.76 to place third.
Vasquez, Marta Gamez, Emily Morin and Caela Dunagan added top-5 in the 4x800-meter run in 11:36.00, and Miller, Vasquez, Gamez and Morin tallied fifth in the distance medley where they stopped the watch in 14:57.37.
Hannah Schechtel had a toss of 28-06.50 for ninth and she flung out an 11th in discus with a 73-06.
TDW was in Hood River tonight for the CRC Preview Meet, and after that, on Saturday the Tribe hits another track meet in Hermiston where field event action starts at 10 a.m.