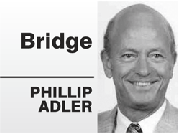 Aristotle said, "All human actions have one or more of these seven causes: chance, nature, compulsions, habit, reason, passion, desire."
At the bridge table, you desire to make or break the contract, using reasoning and various habits — hopefully all good. And sometimes you have to go for any chance that you have.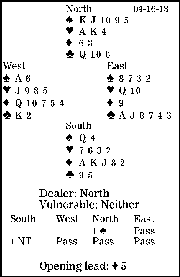 In this deal, West has to decide what to do when defending against one no-trump. He leads his fourth-highest diamond. South takes East's nine with his king and plays the spade queen. West ducks, but is in with his ace at trick three. What should West do now?
An aggressive East would have made a three-club weak jump overcall on the first round. Then South would probably have made a negative double, giving North a headache. The winning action would have been to pass, which would have netted 100 or 300.
If East had balanced over one no-trump with a two-club bid, South would presumably have continued with two spades, which would have probably ended down one after the diamond-nine lead from East.
Who has the diamond jack?
It must be South — do not be fooled by his falsecard at trick one. East was playing third hand high and the best he could do was the nine. Similarly, South has the diamond ace, giving South 10 high-card points. So, if West leads another diamond, South must take at least nine tricks.
The only chance for the defense is to run the clubs. West must shift to his club king and continue with his second club. Here, East and West take one spade and six clubs for down one.