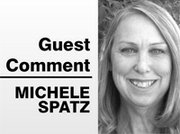 On May 1, Wasco County's Seventh Street property, home of North Central Public Health District, Mid-Columbia Center for Living and Wasco County Corrections, becomes tobacco free. This healthful move by the county is an extension of the State's Smokefree Workplace Law, which took effect in 2009, prohibiting smoking in public places (e.g. any enclosed area open to the public) and workplaces, including work vehicles that are shared.
The state law mandates a 10-foot smoke-free zone around entrances and exits (including accessibility ramps to and from a building), windows and air intake vents for public buildings.
The emphasis the county placed on testing a tobacco-free policy on this group of properties is well-founded.
According to an Oregon Health Authority 2011 report, 27 percent of all deaths in Wasco, Sherman and Gilliam counties result from tobacco use. Tobacco use refers to both cigarette and smokeless tobacco (chew). In these same three counties, $15 million a year — that's right, $15 million annually — is spent on medical care for tobacco-related illnesses (think asthma in kids, lung diseases in adults).
It's no longer a secret the damage tobacco plays on an individual's health or on the health of those inhaling "second-hand" smoke. The evidence mounts and along with the unmistakable facts, federal, state and local lawmakers continue to enact legislation to protect the health of Americans in public places and in work environments.
Wasco County is to be commended for joining the State of Oregon, which phased in its tobacco-free property policy beginning Jan 1, 2013; and other counties, like Deschutes and Clatsop counties, whose properties are likewise transitioning to tobacco-free (Clatsop) or fully tobacco-free (Deschutes).
The Wasco County Tobacco Policy for the Seventh Street properties prohibits:
• Sale or use of tobacco products (cigarettes, cigars, pipes, all forms of smokeless tobacco, e-cigs etc.) in or on the property, including the buildings, grounds, parking lots, ramps, and vehicles. Exception: a designated smoking area in the lower parking lot.
• Employee use of tobacco products on the campus during work shifts. Exception: the designated smoking area in the lower parking lot.
To ease this transition, county employees have access to tobacco cessation programs and medications as part of their standard medical benefits. County employees and citizens alike are encouraged to use the Oregon Tobacco Quit Line, (1-800-QUIT-NOW or, in Spanish, 1-877-2NO FUME), which is a free tobacco cessation resource operated by the Public Health Division of the Oregon Health Authority.
In recent surveys, the overwhelming majority of county employees and clients indicated support for a tobacco-free Seventh Street property, save for corrections clients and visitors.
Tobacco-free policies are shown to reduce exposure to secondhand smoke — which is considered to be a major health hazard — and promote quitting among tobacco users by creating a healthful environment.
Most Oregonians today are not using tobacco as the relative number of tobacco users continues to decline over time. According to the Oregon Health Authority, a little less than 20 percent of Oregon adults (ages 18 and older) smoke, while adult use of smokeless tobacco is about 4 percent. As many as half of Oregon's tobacco users try to quit annually.
And yes, even corrections departments and mental health care facilities are going tobacco-free.
The Oregon Tobacco Free State Properties Initiative calls for state corrections properties to be tobacco-free by Dec. 31, 2014. Notably, in the big tobacco states North Carolina and South Carolina, correctional facilities went tobacco-free in 2009 and 2008 respectively.
Oregon Health Authority's Addictions and Mental Health (AMH) Tobacco Freedom Policy went into effect Jan 1, 2012, with the aim of bringing AMH facilities into compliance with the State's Smokefree Workplace and Indoor Clean Air Act.
AMH notes half of all cigarettes in the U.S. are purchased by people diagnosed with mental illnesses and their tobacco use contributes to a disproportionately higher early death rate.
The AMH Tobacco Freedom Policy is designed to make mental health treatment campuses tobacco-free and to make tobacco cessation an overall approach to treatment and wellness.
All serious scientific research points to the hazards of tobacco use for tobacco users as well as those assaulted by secondhand smoke. Research also overwhelmingly supports tobacco-free policies as a key driver and motivator in helping tobacco users succeed in their quit efforts and as supporting the health of non-tobacco users. By making its 7th Street properties tobacco- free, Wasco County is taking an important step closer to creating a healthier community for all.
Michele Spatz, M.S., The Dalles resident, is the former Director of the Planetree Health Resource Center of Mid-Columbia Medical Center and currently is a staff member of an international nonprofit healthcare organization committed to improving patients' experience of care.