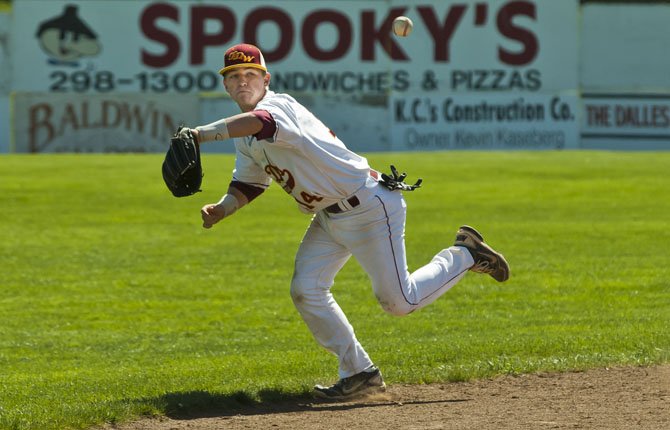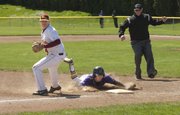 Steven Bartells called Saturday's sweep a solid rebound performance for No. 8-ranked The Dalles Wahtonka.
TDW rapped out 29 hits and scored 24 runs in pulling off wins of 12-6 and 12-2 over Hermiston in Columbia River Conference baseball play Saturday at Quinton Street Ballpark.
"It definitely was a statement. We battled back from our two losses last week and came out to play today and got two wins out of it," Bartells said.
In the first game, TDW jumped on Hermiston with four runs in the first inning and five in the third frame on its way to a 12-6 win.
Every starter had at least one hit and senior Kevin Henderson went 4 for 4 with his first-career varsity home run and three runs scored.
Nolan McCall ended up with three hits, including another long ball, his second of the year, as he drove in a pair and scored once.
Bartells and Connor Mathisen had two hits apiece and Mathisen drove in three runs for the Eagle Indians, who had six extra base hits overall.
Henderson liked the approaches he saw at the dish.
"Our offense can be deadly. We cannot be stopped if our offense is going," Henderson said. "It is important for us to come in with a fire in our bellies. We know we have to execute on our hits. We know we have to put the ball in play and we need to know if we put the ball in play, we are going to make some good things happen to win games."
Dakota Walker wound up getting the win on the mound for TDW, his second of the season.
The senior tossed 4 1/3 innings of six-hit ball with six strikeouts and three walks.
Baseball Boxes
TDW 12, Hermiston 6
Herm 000 402 0 — 6 11 1
TDW 405 102 x — 12 19 0
Dakota Walker, Clayton Ringer (5), Hunter Malcolm (7) and Clay Copper. K/BB: Walker 6/3; Ringer 0/0; Malcolm 1/0. W: Walker.
HR: Nolan McCall (T); Kevin Henderson (T). 2B: Justin Sugg (T); McCall (T); Steven Bartells (T); Connor Mathisen (T). Hits: Sugg 2-4 run, 2 RBIs, sac; McCall 3-3 run, 2 RBIs, HBP, SB; Kaci Kiser 2-5 2 runs, fielder's choice; Walker 2-3 run; Copper 1-4; Bartells 2-4 2 runs; Mathisen 2-4 run, 3 RBIs; Henderson 4-4 3 runs, 2 RBIs, SB; Austin Wilson 1-3 run, RBI, HBP, SB.
---
TDW 12, Hermiston 2 (6 Inn.)
Herm 010 010 — 2 4 3
TDW 050 034 — 12 10 1
Connor Mathisen and Clay Copper. K/BB: Mathisen 5/3.
3B: Justin Sugg (T). 2B: Copper (T); Kevin Henderson (T).
Hits: Sugg 3-5 6 RBIs, fielder's choice, SB; McCall 0-3 run, RBI, walk; Austin Keller 0-2 run, walk; Kaci Kiser 1-1 2 runs, 4 walks; Copper 2-4 RBI, fielder's choice; Hunter Malcolm 0-1 run, walk; Steven Bartells 1-3 3 runs, walk; Mathisen 0-4 fielder's choice; Henderson 1-3 2 runs, 2 RBIs, walk, fielder's choice; Austin Wilson 3-3 2 runs, RBI, walk.
"I am very proud of the way with this came out to play today," said TDW coach J.R. Runyon. "They came out with a focus and were ready to play from the first pitch."
In the nightcap, Justin Sugg went 3 for 5 with a triple and six RBIs to spearhead TDW's 12-2 mercy-rule win.
Up 8-2 in the bottom of the sixth, Clay Copper drove in McCall with an RBI double. Two batters later, Henderson rifled a 1-2 pitch to left centerfield for a two-run double scoring Bartells and Hunter Malcolm to make it 11-2.
With two outs and the bases loaded, Sugg ripped the first pitch he saw for a walk-off RBI single to plate Henderson and give TDW a 12-2 triumph.
Added to Sugg's offensive heroics, Austin Wilson went 3 for 3 with two runs scored, a walk and an RBI, Bartells scored three runs and Kaci Kiser had a hit, four walks and two runs scored.
The Eagle Indians also went 6 for 13 with runners in scoring position.
"One-through-nine contributed all day today. It doesn't matter where you are or what count you are in, you have to get the job done and we got the job done today."
Mathisen pitched six innings and allowed four hits to Hermiston and he fanned five and walked three.
The senior southpaw lowered his earned run average to 1.59 in 26 1/3 innings pitched this season in taking his third win.
With another slate of three league games coming up this week on the road, Bartells is looking forward to maintaining this top stretch.
"It was nice to get off to a good start in league," Bartells said. "We have 10 more games in league. We will take it one game at a time. We need to continue to come out focused and ready to play."
TDW (11-4 overall, 2-0 league) was in Hermiston tonight. At noon Saturday, the Tribe heads to Pendleton for another CRC doubleheader.