ELLENSBURG, Wash. (AP) — When Dar, one of the chimps housed at the Chimpanzee Human Communication Institute at Central Washington University, died suddenly late last November, the question of the future of an already-dwindling chimpanzee population at the center became even more pressing.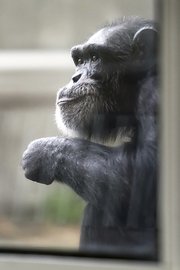 Dar's death reduced the total population to two, but even before, the institute had been looking at ways to acquire new chimpanzees.
Chimpanzees are deeply social, and may live in groups of more than 100 in the wild. Construction of the institute finished in 1993, and at its peak, it housed a family of five chimpanzees that learned American Sign Language. The chimps use signs to speak with each other and humans.
CWU College of the Sciences Dean Kirk Johnson outlined options for the center in a report to university president Jim Gaudino and his cabinet this week. Johnson said every acceptable option for creating a proper environment for the remaining chimpanzees, Tatu and Loulis, means adding more chimpanzees at the facility or moving them to a sanctuary. The decisions in the Wednesday report revolve around the cost of building renovations required to add new chimps, the program's value to the university and what's best for the chimps.
"We're left with the options of closing it down and finding homes for them or bringing in new members as the two most viable options," Johnson said.
The center is a sanctuary for chimpanzees and a research center for behavioral and primate care research. It is open to the public for regular Chimposiums, where guests can visit and learn more about chimpanzees.
Adding three to five chimps to bring the population to an acceptable number would require a $1.9 million remodel and state capital funding.
As social as they are, chimps are also deeply territorial, and the center would need a system of barriers and enclosures to properly integrate newcomers with the current population. Another option is to move the chimps to a sanctuary elsewhere.
Friends of Washoe, a nonprofit group named for the chimp family matriarch that charges itself with the care of the chimps, "owns" the chimps, while CWU owns the CHCI facility.
The group could move the chimps to a sanctuary, assuming it finds one with room, but that would most likely cause stress for Tatu and Loulis. The chimpanzees have lived as a single family for almost 33 years.
Johnson noted that it might also mean the effective end of a valued tourism and outreach facility and loss of name recognition for the university at large.
Records from CHCI show it had about 6,000 visitors last year, 84 percent of which were from outside of the county, and 24 percent came to Ellensburg solely to visit CHCI.
Since Johnson started his review in February, feedback has generally supported adding chimps, he said.
He's met with multiple constituents, including Friends of Washoe, CHCI Director Mary Lee Jensvold, community leaders and the CWU student government.
Some business owners have signed a petition in support of adding chimps, and earlier this month, the Ellensburg City Council voted unanimously to write a letter to Gaudino in support of renovating the facility and adding chimps.
The majority of speakers at a CWU student club senate meeting supported the remodel, he said, as did most members of the faculty senate.
Johnson's recommendations that included a remodel also included reemphasizing research at the facility. Two of the plans included reorganizing the program or adding staff to expand the amount of research work done through CHCI.
Jensvold said more research staff would mean more publishing, but disagreed with the implication that research output at CHCI is anywhere below par or lacks value.
She is the single faculty member producing CHCI-related research, since Roger and Deborah Fouts, the program's founders, retired.
"But we're still managing to get things out there," she said.
She publishes something once or twice yearly, she said, and has been invited to multiple conferences on primate behavior and captive primate care research.
"I don't know. Other people outside of Central seem to recognize what we're doing in terms of research," she said. "Maybe some people see it as less valuable, but it's gobbled up by journals."
Beyond her research, there is also work from students. Johnson's review found that CWU's primate behavior program faculty and students have generated about 100 presentations and manuscripts in the past 10 years.
"One of the things I've learned in the last — as we've gone through this process with the university — is we don't toot our horn enough," Jensvold said.
It's not really her style, she said. CHCI is a research facility and sanctuary, not a tourist attraction — and even though there are many good programs at the school, CHCI is a valuable feather in Central's cap.
It's also a good recruiting tool, she said. Thousands of K-12 students come through for weekday trips to the facility every year, students who might not have visited Central otherwise.
Students who aren't interested in primate research might be motivated to enroll at Central, she said, adding that a recent student visitor told her he came to Central because of a Chimposium visit in the fourth grade.
Linda Schactler, director of public affairs at the university, said the best estimate she could offer for any decision from the cabinet would be some time in May, after the current legislative session ends and budgets are finalized.
The legislative session officially ends April 28, but has been extended for last-minute budget battles before.
How much of CWU's $87 million in capital budget requests, including the roughly $7 million minor works request, makes it through the process will go a long way toward determining the chimps' future. Any money for CHCI would come from the minor works pot, Schactler said.
Jensvold said the decision needs to come sooner than later.
"Tatu and Loulis need something done for them soon," she said. "It has been going on for too long."
---
Information from: Daily Record, http://www.kvnews.com
Copyright 2013 The Associated Press.