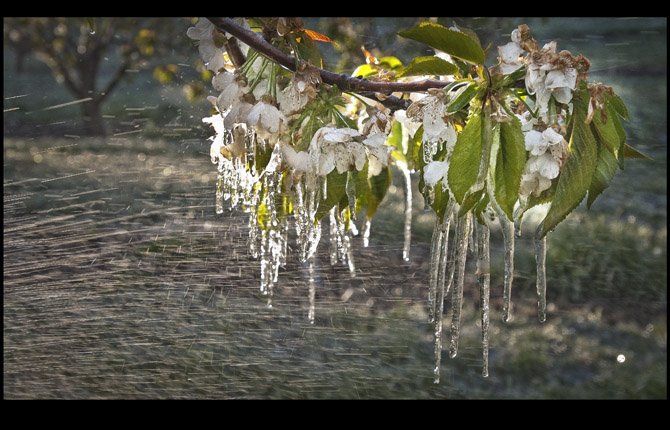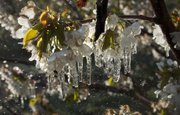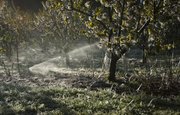 ICICLES FORMED on cherry blossoms along Mill Creek Road as orchardists used irrigation and fans to warm trees early Wednesday morning, April 17.
"When water freezes, it releases energy in the form of heat," explained Lynn Long, OSU Wasco County Extension Agent, "so that's the point of running irrigation is to take advantage of that energy that is released in freezing."
Long said that energy can increase ground temperatures by up to three to four degrees and possibly avert potential frost damage.
Using wind machines is another way to increase temperatures around the trees, if the cold is caused by an inversion layer, with colder air near the ground and warmer air higher up.
"There's got to be a temperature inversion for the fans to be effective," he said. The fan helps bring the warmer air back to the ground from higher elevations, raising temperatures near the trees.
Long was uncertain this morning what effect the current conditions might have on this year's crop. Variables include the specifics of this weather event, the variety of cherry, when it blooms and conditions in the various microclimates of the region.