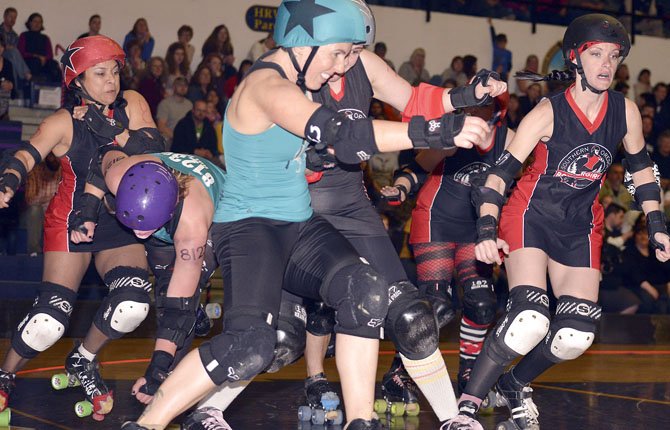 Down 69-58 in a rough-and-tumble first half, the Gorge Roller Girls needed a revised game plan to forge a valiant comeback.
Coach Shannon Burns, aka Yo-Duh, had some choice words for his team and got them headed in the right direction.
GRG standouts Wreck-Less scored a game-high 79 points and teammate Ginger Binger Danger Hips tacked on 57 points, as Yo-Duh's group rebounded in the second half with a 125-67 run for a 183-136 comeback win Saturday over the Southern Oregon Rollergirls in All-Star Roller Derby action Saturday night in Hood River.
"I think what changed for us in the second half was the fact that we stayed focused on the game, focused on the basic fundamentals that we have been working on and didn't let the stress of the scoreboard bother or mess with what we were doing on the track," the GRG coach said.
With talented athletes draped on both rosters, this contest was highly competitive, closely matched and physical throughout.
Early on, each of these teams traded leads with sustained rallies on the offensive end to keep a feverish capacity crowd on the edge of their seats.
Down by 11 entering the second stanza, GRG used the friendly confines to re-energize them.
As the match wore on, momentum switched from the Southern Oregon side to the hometown squad, with a lopsided 58-point scoring outcome making the difference.
"When the jammers scored big, it was not because they were doing something any more amazing than they did the jam before, but because the blockers were able to hold the jammer for the other team long enough to let our jammer work some magic." Coach Yo-Duh said.
Although Saturday's bout proved to be a hard-hitting affair, where several athletes were donning shiners, bumps and scrapes after the match, both teams gathered for a wave of acknowledgement to express their appreciation to the unbridled energy displayed by the raucous crowd.
Ophelia Fury was named as the team's Most Valuable Player, Wreck-Less, with her high point volume, earned the distinction of best jammer and Maytag received best blocker of the night recognition.
Just a little more than a year since its inception, GRG has grown to greater heights and gathered a cult following of new fans, young and old.
For the past 13 months, this group has been in full training mode.
It was a good sign to see this group combine forces for a dramatic win – to do it at home was especially pleasing to Ophelia Fury.
"I am so proud to be a Gorge Roller Girl, skating beside this incredible group of women," Fury said. "We are inexperienced, but always skate as one unit and have more heart than any of our opponents. That's why we win. And it felt incredible to hear hundreds of local fans cheering for us and embracing this awesome sport."
The GRG program hits the hardwood in Hood River at 6 p.m. on Saturday, May 11, where the two local teams, the River Reapers and the Cherry Bombers, duke it out once again.
Earlier this season on March 16, the Reapers won, 139-130.
Volunteers are needed, so email volunteers@ gorgerollergirls.com to join.
For more information on GRG, people can log on to www.gorgerollergirls.com.