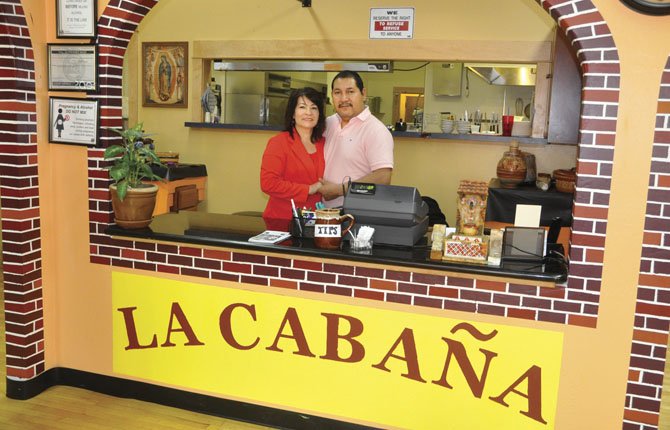 Carlos and Socorro Quezada want to help downtown The Dalles grow with their new restaurant, La Cabaña.
The Quezadas have remodeled the interior at 400 E. Second Street and will celebrate their grand opening Saturday, May 4, with live music from 4:30 to 9:30 p.m.
"We see a lot of potential here and we want to be part of this community by bringing good food and good service here," said Carlos.
They describe their cuisine as authentic Mexican food — and that means fresh.
"A lot of people notice our cuisine is more like authentic Mexican food after they've tried it," Carlos said.
"We prepare fresh salsa and chips," Socorro added. "We make our salsa from scratch. We don't open cans or use anything frozen."
And while some people may think lard when they hear "authentic Mexican" the Quezadas use olive oil, with its many health benefits. They also offer a lot of vegetarian options.
"People can almost make their own dishes," Carlos said.
"We're very flexible about doing special orders," Socorro added.
The Quezadas have plenty of experience providing good food to hungry people. They are in the midst of their 13th year as owner-operators of the Hood River Taqueria Mexican Restaurant. They have also been operating the Heights Ice Cream during the good weather months for the past three years.
"We have a lot of customers here that drive all the way to Hood River, not just to eat our food, but when they are shopping they eat at the Taqueria," Soccoro said.
They had already accumulated plenty of restaurant experience before their move to the Columbia Gorge.
Carlos worked as a cook or chef in Italian and Mediterranean restaurants in Palos Verdes and Redondo Beach, both in California.
"I've been 27 years in the U.S.," he said. "I came here when I was not even 18. Now I'm 45 — it's a long ways.
Now the Quezadas are raising a second generation of U.S. restaurateurs. Their three children, ages 19, 13 and 10, all help out at the restaurants and ice cream shop.
Asked about their specialties, "seafood" is Carlos' answer. "We've also got tacos, burritos and tortas," he added.
He say they also work hard to make sure diners can get their lunch quickly.
And while the restaurant has a full on-premises liquor license, the Quezadas hope to draw in a family crowd.
They say they are still hiring and hope to find reliable experienced restaurant workers and managers for their downtown business.
La Cabaña's business hours are daily from 10:30 a.m. until 9:30 p.m.