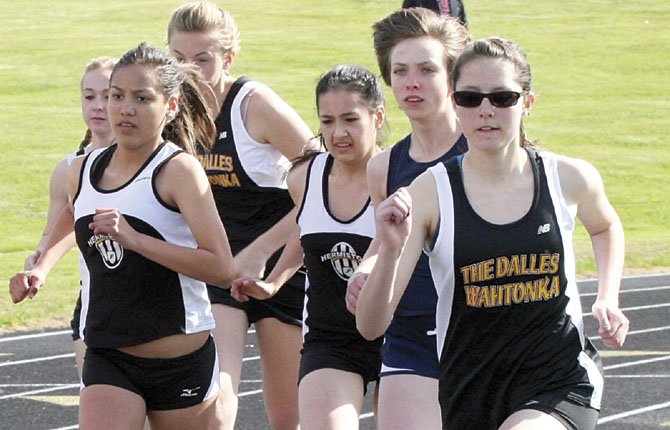 There is reason to believe The Dalles Wahtonka track team is quietly — but surely — making its name known in the Columbia River Conference.
While facing Hermiston, Pendleton and Hood River Valley, the Eagle Indian track squad netted 12 top finishes and 31 personal records during the CRC Preview Meet at Henderson County Stadium in Hood River.
"We had some personal records set today," said TDW head track and field coach Garth Miller. "The kids competed well and this was just some good preparation for the district meet (on May 17-18 in Hood River)."
Seven girls scored first place in their events and the quartet of Brittany Babb, Avery Cardosi, Katie Burns and Katie Conklin teamed up for top honors in the 4x100-meter relay with a time of 55.38 seconds.
Sophomore Yasmin Hill kept her hot streak going on cue with first place in the pole vault and long jump, both with personal records.
Hill grabbed a top height of 8-feet in the pole vault and she notched a 15-06 in long jump for gold medals.
Conklin also joined in on the PR parade where her top distance measured in at 33-08.75.
Four junior varsity athletes also placed first, with Tai Rogers leading with a time of three minutes and 23.75 seconds in the 800-meters.
Cardosi crossed the line ahead of the pack in the 200-meters with her reading of 29.70 and Kellina Coy added a height of 7-0 in pole vault.
Freshman Tua Faamausili rounded the girl's standouts with an 88-08 in discus.
Brittany Coleman had a JV time of 14.63 for third place, a personal record and senior Anna Daggett scored a PR of 6:26.25 in the 1,500.
Caela Dunagan scored a record in the 800 with a 2:55.18, Ana Gonzalez scored a 15.10 in the 100-meters and she followed that6 up with a 67-03 in the javelin.
Liz Tunai had a 23-08.50 for a personal record in JV shotput, Audrey Miller added a 5:52.08 in the 1,500 and Alyssa Valles had a PR in the triple jump with a 28-02.25.
Zach Nerdin scored two top slots in his events, Lio Tunai dominated the discus field and Sant Strassheim had a leap of 5-02 in his junior varsity high jump slate.
Nerdin had a scorching time of 16.44 in the 110-meter hurdles, a personal record, and he soared to a 5-foot-10 inch marker in the high jump for a top tally.
Tunai, the No. 1-ranked shotput maven, added a 141-06 for his effort, a mark less than six inches off matching his previous record.
Mark Johnson went on to match his personal record in the pole vault with his 11-foot marker placing him second.
Harris Farr made his moves in the long jump with a height of 20-09.50 for second place, he placed third in the high jump at 5-10 and Tunai added second place in shotput with a toss of 49-10.25.
The 4x100-meter relay team of Blake Diede, Strassheim, David Esquivias and Farr grabbed silver in their event with a time of 45.56.
Andres Manzo, Damion Morris, Aldo Rivas and Julio Manzo kept things motoring along in their combined output with a JV finish of second place at 48.78.
Joey Duong set a personal record in shotput with a 39-02, Christian Garcia had a PR in the 400 where he crossed the line in 57.18 and Billy Brace notched a 12.45 in his JV 100-meters.
Coach Miller is liking the direction the program is headed at this stage.
"Our kids are competing well," coach Miller said. "At this point in the season, we are pretty happy with where we are at. We still some work to do, but I am encouraged to seeing their work paying off."
TDW is in Hermiston starting at 10 a.m. Saturday.
for the annual Kiwanis Invitational.