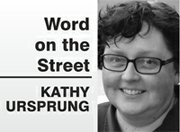 You can't help getting older, but you don't have to get old.
— George Burns
Still youthful after 73 years: At the age of 73, every anniversary is something to celebrate and that's what Sawyer's True Value and Just Ask Rental is doing this week through Sunday April 21.
The public is welcome to come check out their special festivities and sales. Many activities center on Saturday, April 20, when a prize wheel will be in place, as will free popcorn, cotton candy, bounce houses and vendor demonstrations.
Sawyer's will be displaying photos and articles from 1940 to the present.
"These articles are great, because not only do they display our family and business history, but also the history of The Dalles and the world at that time," Jared Sawyer said.
Sawyer said he looks forward to serving the community for many more years.
"The best part of my job is that I, myself, and my team know our customers by name," Sawyer said. "We are in the relationship business. Our goal is to enable the satisfaction of a job well done by engaging our customers' projects and helping them find meaningful solutions."
When Sawyer's opened in 1940, the store sold only grocery items. Changes have been many from the time of that small corner grocery store on West Ninth Street to today at their East Third location. They have a few The Dalles business firsts in their history, including the first paved parking lot, first customer elevator, first tiled floors and first walk-in coolers. The store, founded by Shirley Sawyers, was sold to his son Stan, who sold the business to his son and daughter-in-law, Warren and Marcia. The original store burned to the ground Nov. 10, 1963, and was rebuilt and expanded.
Today, Jared Sawyer is the fourth generation to own and operate the business.
The store is open from 7:30 a.m. to 7 p.m., Monday through Friday, 8 a.m. to 6 p.m. Saturdays and 9:30 a.m. to 5 p.m. Sundays.
Flummoxed by technology? A smartphone or tablet is a supposed to make life easier, but not everyone has time to learn their device to its fill potential.
U.S. Cellular is offering a free remedy for this problem, a device workshop Thursday, Apirl 1, at 8 a.m. at the company's 1466 W. Sixth St. office in The Dalles. Current or potential smartphone users can learn more about the features, tips and tricks of their specific device. Company associates will offer hands-on assistance to help people get the most out of their device features.
A warehouse with a view: Devco Mechanical, Inc., has gained administrative approval from the City of the Dalles to build a new 30-by-60-foot storage building on land at 1539 Bargeway Road.
The decision also allows for residential use on the second floor of the building.
This is the second such building adding residential space in a commercial-recreational zone along the river, noted Dick Gassman, The Dalles City planner. "Several properties are zoned commercial-recreational and those can have residences on the upper floors, but not on the main floor."
Gassman said he isn't sure whether there is growing interest for these kinds of properties near the industrial zones, but the city is interested in promoting above-ground-level residential space in downtown The Dalles. Such redevelopment can present some challenges due to the ages of some of the buildings and the differences in building codes between commercial and residential development.
Gassman said he plans to bring a vertical housing development zone concept before The Dalles City Council at a meeting sometime this summer.