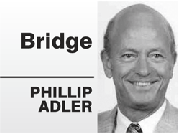 Alija Izetbegovic, the first president of Bosnia and Herzegovina, said, "We play an active role and try to influence our destiny; we have our own trump cards and we use them."
So far this week, we have been looking at defenses in no-trump contracts aided by placing declarer's high-card points based on the bidding and play. Suitably assisted, one defender has known which suit to attack to gain sufficient tricks to defeat the contract. Now let's move to trump contracts.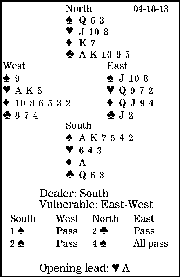 South is in four spades. West leads the heart ace. How should East plan the defense?
The auction given is using Standard. If you have adopted two-over-one game-forcing, North would rebid three spades because the opener's hand strength is undefined. Then South would bid four spades to indicate a minimum.
East does not want his partner to shift, so should signal with his heart nine at trick one. West cashes the heart king and plays his third heart. After East wins with his queen, what does he do next?
East should count the points. South showed 12 to 14, the dummy has 13, West has already produced seven, and East has seven. Since all four jacks are on view, West cannot have another honor card. The only chance for a fourth trick lies in the trump suit.
East must lead his last heart. Here, when West ruffs with the spade nine, it uppercuts dummy's queen and promotes a spade trick for East.
When you have taken every possible side-suit trick, give a ruff-and-sluff. It might result in a trump promotion or an uppercut.