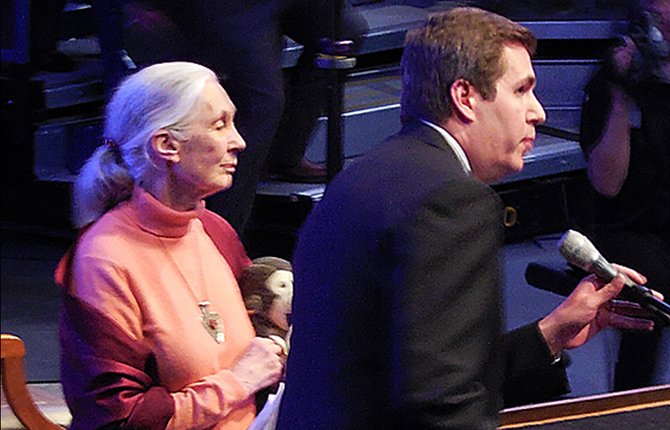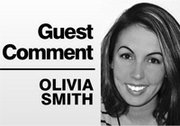 I remember the first time I heard of Dr. Jane Goodall.
I was in ninth grade science class, and our teacher showed us a film that featured her work with chimpanzees in Gombe National Park in present-day Tanzania.
I was immediately fascinated, because not only was she living amongst those awesome, highly intelligent creatures like she was one of their own, but she was also such a young woman. It was inspirational to me, as an impressionable teenager, to see such a young woman achieve so much in a field that was utterly dominated by men at the time.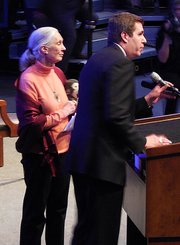 I was fortunate enough to be able to see Goodall in person when she gave a lecture April 9 at Gonzaga University. Even though I had heard nearly all of what she said before, from her books or documentaries about her, I was still moved to tears by her message.
Until Dr. Goodall, who received her Ph.D. in ethology several years later and had no college degree at the time, arrived at Gombe and observed otherwise, chimps were thought to be mostly vegetarians who only occasionally supplemented their diets with insects and small rodents, when in reality, they hunted and ate animals such as bushpigs.
She made another hugely important, history-changing discovery: chimps could not only use tools (e.g. dipping twigs into termite nests to fish them out and eat them), but they could also create tools (e.g. stripping leaves from stems in order to probe termite nests more easily). Until that point, it was believed that tool-making was solely a human capability.
Those are just a couple examples of the extraordinary work that Dr. Goodall did at Gombe, mostly with nothing but a pair of binoculars, a notebook, and a huge amount of curiosity and courage. Fast-forward nearly 15 years, and I am still keeping up with and am perpetually in awe of Goodall's work.
I have been interested in causes related to animals and the environment since I was young, and Goodall travels more than 300 days per year, giving lectures and meeting with government officials around the world regarding such matters. Even though she is nearly 80, she still works incredibly hard nearly every day of her life to, as cliché as it may sound, make the world a better place — not just for animals, but also for us. She was even named the United Nations Messenger of Peace in 2002 because of her "dedication to what is best in mankind".
In my eyes, she is not just a brilliant scientist and primatologist – she is a truly devoted humanitarian, conservationist, activist, and aside from my own mother, my greatest inspiration as a human being.
If you do not know much about Goodall and her contributions to science, mankind, animals and the environment — particularly if you are a young woman who could use better role models than the current mass of popular celebrities — I urge you to watch the documentary "Jane's Journey." It provides a good, albeit brief, history of her efforts, as well as a glimpse into what she is currently working on, such as the Jane Goodall Institute's "Roots and Shoots" program.
R&S is a wonderful program that inspires and empowers young people around the globe to make positive, long-lasting changes in their communities and the world. Her website, www.janegoodall.org, is also informative and entertaining.
There are so many quotes that I would like to share with you by Dr. Goodall, but I will conclude with this one, as I feel it is especially powerful: "You cannot get through a single day without having an impact on the world around you — what you do makes a difference, and you have to decide what kind of difference you want to make."
Olivia Smith works at The Dalles Chronicle and has interest and coursework in journalism.