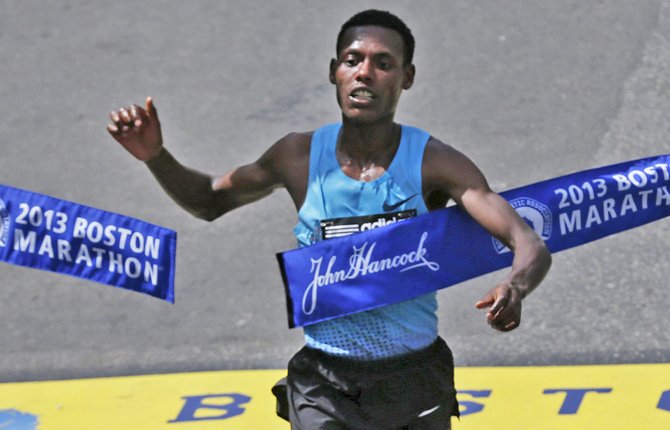 A commentator on NPR this week described the Boston Marathon and its younger cousins around the nation as the most populist, egalitarian sporting events available to both athletes and spectators alike.
Think about it: Intrepid amateurs compete alongside some of the world's best athletes. They qualify based on merit and don't have to make a huge outlay of cash just to compete — other than entry fees and travel costs.
Spectators line the streets in the neighborhoods through which the race is run, paying nothing for the privilege. No one herds them through turnstiles or forces them to reveal the contents of their purses or backpacks.
In a sense, the Boston Marathon, run in this seat of liberty, is a metaphor for our own freedoms and privileges as Americans — and for the open society that we need to preserve and protect.
It embodies the best of what the American form of democracy is all about.
The essence of a terror attack — whether domestic or foreign, organized or individual — is to strike at innocents while they go about the normal pursuits of life.
Their impact is stronger because they target events that embody the essence of our freedoms: the right to gather in public places, to go about our daily lives unfettered by intrusive restrictions — to pursue happiness in ways of our own choosing.
We mourn the people whose lives have been devastated by the senseless violence at the Boston Marathon and other scenes of violence in recent years.
U.S. security forces, backed by more intrusive domestic surveillance laws enacted after the World Trade Center and Pentagon attacks, have been able to ferret out a number of terror plots before they reached fruition.
Yet it simply isn't possible to guard against all risks — at least not without intrusions beyond what the citizens of a free should expect to bear. As one Associated Press reporter wrote, "We are a nation of soft targets."
That doesn't mean we should begin widespread aerial drone surveillance or reopen the PATRIOT Act for addition of even more incursions into the personal freedoms that we in the United States are granted by right and should hold dear.
Should we, as citizens, be more alert to unusual behavior or events that might signal the danger of a violent attack? Yes, by all means.
Should law enforcement be alert to risks and present to enforce laws at events like the Boston Marathon? Yes, of course.
Should our government enact even more laws that limit constitutionally guaranteed rights of individuals? Absolutely not.
Our freedoms and protections in the United States derive from a social contract. As people who dwell in this country, we agree to abide by certain laws and customs designed to ensure the security of the people in our cities, counties, states and nations.
From our forefathers foreward, the vast majority of us have voluntarily agreed to give up a certain measure of freedom for the sake of our own — and society's — safety and order.
Government's right to govern is granted by the people of this country. It has neither the power, nor the right to govern us without that social agreement.
The question we must ask ourselves is, how much freedom can we afford to give up before we can no longer call ourselves a democracy?
We inch closer to that mark by the day.