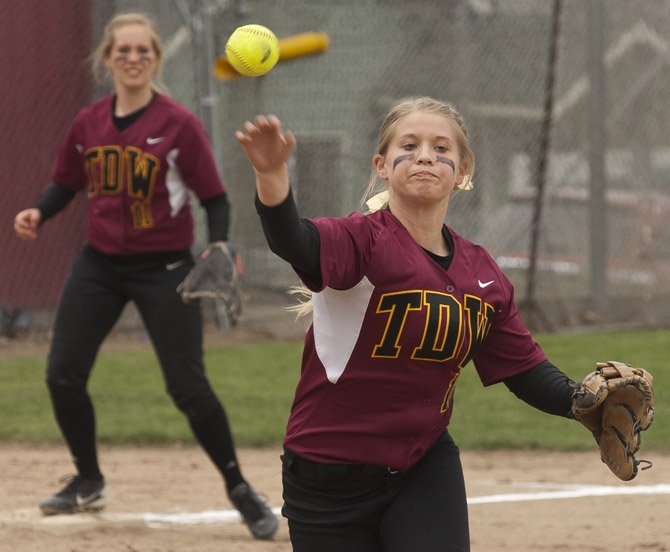 The Dalles Wahtonka held a 1-0 lead through two and half innings, but Hermiston took advantage of five errors in a game-changing seven-run third frame and motored to an 8-1 victory Wednesday in Columbia River Conference softball play in Hermiston.
In that fateful inning, the Bulldogs sent 13 batters to the plate and received two walks, slugged out three hits, including a solo home run by Paige Long that tied the game at the time at 1-all.
"We have to stop the bleeding before they can get their crooked numbers up and we just couldn't do it today," said TDW head coach Steve Garrett. "It was just horrible, a nightmarish type of an inning. Morgan kept throwing it and they kept hitting the ball and we were unable to make the plays. The girls know they have to step up. If we cannot make the plays, we will not win the games."
Hermiston eventually added a single run in the fifth inning and TDW was kept off the scoreboard over the final four frames.
Long tossed a complete game three-hitter with eight strikeouts and two walks.
Morgan Goslin, Katherine Kramer and Ruthie Ford tallied the only three hits in the game.
Morgan Triperinas added a walk and a sacrifice and Shaela Buchanan received a walk and scored a run, on Kramer's only hit, a double.
In the circle, Triperinas pitched six frames and fanned three.
Three of the runs allowed were unearned.
With this 0-3 start to league play where they have been outscored by a 26-4 margin, Garrett said it would be a collaborative effort of leadership and confidence that will get this group back to form.
Garrett wants to see more guts and fight back even when things are not going the Tribe's way.
"We got to find a little extra inside us to play a little stronger than we have been," Garrett said. "It is part of the coaches and part of the leaders of this team to get us out of the dirt and back on our feet. We can do it, but it will take everyone on this team believing they can do it."
With the loss, TDW (9-7 overall, 0-3 league) moved to last place in the conference with nine regular season games remaining.
They will try to rebound with a league doubleheader in Pendleton against the No. 1 Lady Buckaroos starting at noon Saturday.