NORTHEAST ZONE HUNTING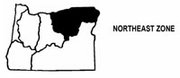 OPEN: COUGAR, COYOTE, SPRING BEAR, SPRING TURKEY


Spring turkey hunting forecast
Controlled hunt deadline is May 15: Apply online, at a license sales agent, at ODFW offices that sell licenses, or by mail or fax order using the application found here. Read about common controlled hunt misconceptions.

Mandatory Reporting
Thanks to all hunters who reported their 2012 tags on time. Hunters who did not report 2012 deer and elk tags on time will pay a $25 penalty fee when they purchase a 2014 hunting license. If your 2012 deer and elk hunts extend into 2013, you have until April 15, 2013 to report your hunt. More information on reporting http://www.dfw.state.or.us/resources/hunting/reporting/index.asp
Wolves in Northeast Oregon
Wolves are protected by state law and it is unlawful to shoot them. Coyote hunters in northeastern Oregon need to take extra care to identify their target as wolves can look like coyotes, especially wolf pups in the mid-summer and fall. ODFW needs hunters' assistance to establish wolves' presence in Oregon; please report any wolf sightings or wolf sign to La Grande office (541) 963-2138 or online.
Use the Oregon Hunting Map to see where to hunt.
BAKER COUNTY
Turkey- Hunters can expect to see turkey numbers in Baker County similar to last year. Birds are moving up off the winter range as the snow recedes.

SPRING BEAR: Bear season opens April 15. See the hunting forecast for what to expect. Successful hunters, remember check-in of bear skull is mandatory; see the regulations for details. Biologists recommend propping the bear's mouth open with a stick after harvest; it makes for easier tooth collection and measuring.
Cougar - Cougars can be found throughout Baker County but hunters should target areas with high concentrations of deer and elk. Setting up on a fresh kill or using distress calls can all be productive techniques. Hunters are required to check in the hide of any cougar taken, with skull and proof of sex attached.
Coyote - Coyote numbers are good throughout the district. Try calling in early morning and late afternoon. Remember to ask for permission before hunting on private properties.
GRANT COUNTY
Bear - Spring bear season is now open. Hunters should look for bears in areas with early spring green up. Glassing burns or open areas can be a good way to locate bears. As the season progresses calf or fawn in distress calls may be productive. Early in the season snow could limit access to higher elevations. Last year the Desolation unit was the most productive for hunters. If successful check in of bear skulls is mandatory; see the regulations for details.
Turkey – Turkey numbers in Grant County continue to climb. Hunters should be able to find birds widely distributed, and with the warm weather they should continue to move toward the forest leaving private lands.

Cougar - Hunting remains open. Successful hunters should remember that check-in of the hide with skull and proof of sex attached is mandatory; see the regulations for details.
Coyote - Numbers are good in most of the district. Coyotes may respond to distress calls. Try calling in the early morning and late evening.
MORROW, GILLIAM and WHEELER COUNTIES
Cougar - Hunting is open. Cougar are well distributed in our forested areas. Calling with distress calls or cougar vocalizations can be effective. Locating a fresh, naturally made kill has the best chance of success.
Coyote - By all indications the coyote population is healthy with good numbers of coyotes available for those who wish to pursue them. Watch wind direction to help prevent giving away your location. Calling with game distress calls can be very successful.
UMATILLA COUNTY

Cougar - Cougar are well distributed in forested areas of the Walla Walla, Mt. Emily, and Ukiah units. Hunters will have best success by finding a fresh naturally made kill and sitting on it, or by using predator calls. Some success has come from following tracks until the cougar is located.
Coyote - Are numerous throughout the District and hunters should have good success calling. Remember to ask permission before hunting on private lands.
UNION COUNTY
Turkey – Turkey are moving into their summer range and will even be in areas where there is still residual snow. Look for tracks and especially an abundance of scat under large trees. This concentration of turkey droppings indicates those trees may be a roost sight. Remember the two day youth season that opens this weekend. Youth will have to wait until the general spring season opens before they can harvest a turkey with an adult tag through the mentor program.
Bear – Access for the spring bear hunts is improving. Elevations over 4000 feet will still have some roads blocked by snow. Look for slopes with a southern exposure that have "greened up" as this is where the bears are likely to be found.     
Cougar - Cougars are common in Union county. Focus on game rich areas with long ridgelines or saddles that cats typically travel. Setting up downwind of a deer or elk killed by a cougar can be productive. You need to be extremely patient and wear camo when calling cougars as they come in slowly and use every bit of cover as they approach. Using remote calls will focus the cat's attention away from your blind. Remote motion devices next to the remote call will increase your chances of harvest. Above all, DO NOT MOVE! - their eyesight is excellent. Nonresident hunters can include a cougar tag with others tags for only $14.50. All cougars taken must be checked in within 10 days of harvest; call for an appointment before coming in.
Coyote - Coyote numbers are good throughout the district. Try calling in early morning and late afternoon. Remember to ask for permission before hunting on private properties.
LADD MARSH WILDLIFE AREA
With the close of authorized hunting seasons on the area, Ladd Marsh Wildlife Area is closed to hunting and to all entry. This includes all portions of the wildlife area both west and east of Foothill Rd. The Glass Hill Unit will re-open April 1.
A parking permit is needed for Ladd Marsh. Hunters get the permit free with their purchase of an annual hunting license. Display on car dash. More information
Wallowa COUNTY
TURKEY: Spring gobbler season opens April 15 and turkey hunting is expected to be fair to good. Birds are well scattered in the Wenaha, Sled Springs, and Chesnimnus units. Hunters can often locate birds by listening for gobblers at dawn or dusk. Hunter access will be limited due to snow drifts at higher elevations in all units.
BLACK BEAR: Controlled spring bear season opens April 15. Most bears are still in dens, but bear activity will increase toward the end of April. Hunter access will be limited due to snow drifts at higher elevations in most units.
COYOTE: Good numbers of coyotes can be found throughout Wallowa County. Calling coyotes with rabbit distress type calls has been effective for hunters. It is important to choose areas with abundant coyote sign and little human activity.

COUGAR: Cougar numbers are strong throughout Wallowa County. Most lions are taken incidental to other hunting; however, calling with fawn bleat, or locating a cougar kill and waiting for a cat to return are often successful techniques.