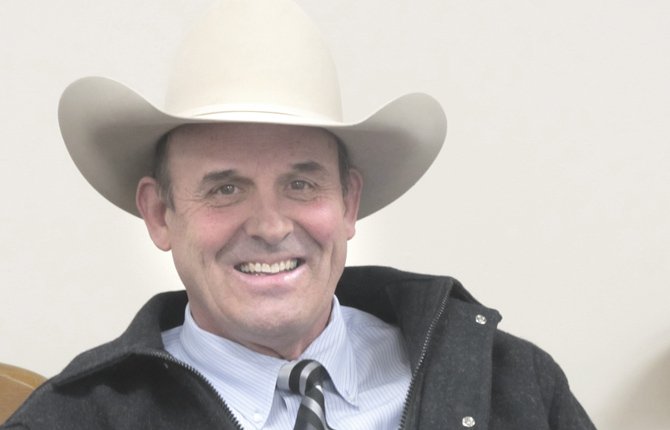 Sherman County rancher and businessman Jon Justesen has announced his plans to run as a Republican for the seat of Oregon governor next year.
"I think that somebody needs to step up and lead in a lot of areas," Justesen said by phone April 17 from his Kent area home. "I've had a blessed life. I have a couple of boys at home ranching. I have time to contribute and a track record of experience. It's my obligation to serve you and Oregon."
What Justesen doesn't have is political experience. But he sees that as an advantage.
"I have a real problem with career politicians," he said. "I don't want John [Oregon Gov. John Kitzhaber] to have another four years. I don't think the governorship should be more than eight years. There are a lot of things we can fix very easily at this time in history. Compared to the problems Lincoln had, these are nothing.
"I'm not a politician. That's a positive, isn't it?"
In addition to his ranching experience, Justesen is a director and member of the governance committee and compensation committee of Barrett Business Services headquartered in Vancouver, Wash. The company provides services including payroll, human resources and others for businesses.
He says his roots are sunk deep in Sherman and Wasco counties, where he can trace them back to pioneer origins.
Justesen's key talking points are on the state tax system and his lack of interest legislating on certain social issues.
"I don't believe abortion or gay marriage belongs in politics," he said.
Justesen advocates in favor of broad tax reforms.
"I think we need to have a responsible tax system," he said. "Because of the financial situation in Oregon now, we're probably going to have to have a sales tax or go broke."
In concert with that change, Justesen advocates for charging no income tax on incomes below $60,000, 5 percent on income up to $100,000, and the current rate on incomes above $100,000.
"And I would like to reduce property taxes substantially, because we would replace them with the sales tax," he said. "I think the sales tax is a very fair tax and it casts a big net." He added that he would exempt food purchases.
Justesen calls it simple math and common sense.
"It's a first-grader decision," he said. "Career politicians are down there making decisions to keep themselves in office, I think. They don't have a lot of experience in business."
While he expects taxes will have to be raised for a while to help get Oregon's fiscal house in order, eventually he expects to lower all taxes.
"But I don't think we can at this time," he said. "April 15th was the 100th anniversary of the income tax system. By 1950, the top tax rate was 93 percent. They kept it that way while they were rebuilding after World War II. When John Kennedy came along, they decided it was time to lower tax rates. They had their fiscal house in order."
Justesen says he has been a lifelong Republican, citing Lincoln, Hatfield and Reagan has role models.
"I think we need to reform a little bit," he said. "Hopefully, if we reform a little bit — everybody makes mistakes — we can reunite the party.
"I'm taking the long view," Justesen added. "I don't plan on leaving home for second [place]. If I'm going to contribute and benefit you and Oregon, I'm going to have to win."
Justesen also wants to see improvements in Oregon's school system.
"Our school system is way down the list," he said. "I want Oregon to have the number one school system in the U.S. I want us on top of the lists or all the important issues. I'm not going to tell you if I can do it or not. I've got some ideas that I think will work, but I'm not going to BS the answers. I've always been a performer."
Justesen said his experience both in the ranching world and in the corporate world as a leader in a big, publicly traded company have prepared him for the governor's seat.
"We were in Forbes twice last year," he said of Barrett. "We're one of the top-performing stocks on the NASDAQ two years in a row."
Justesen said he also understands the challenges facing working families.
"I started out working on a ranch for $4 day," he said.
If elected governor, Justesen promises to take no salary or PERS.
"All the politicians get huge pay and huge PERS these days," he said.
Justesen has been working to build name recognition, speaking at a variety of political functions. He is also working to get a campaign team together for the race ahead.