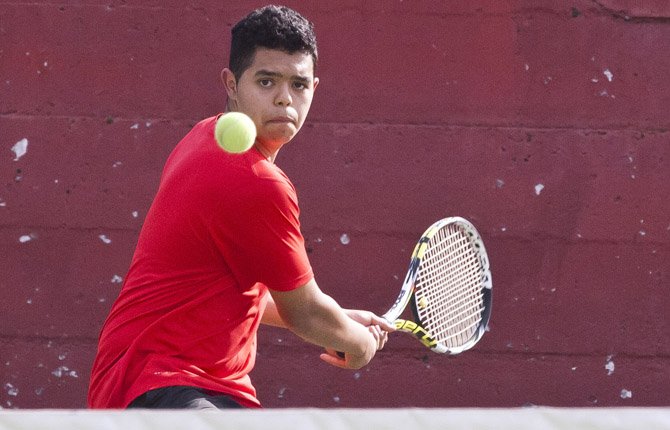 With only one day of rest after a lopsided loss to Hermiston, The Dalles Wahtonka came out in full force in their 7-1 win over St. Helens in 5A tennis action Wednesday at TDW High School.
"It was a good win. It was a confidence booster," said TDW tennis coach Andrew Hughes. "We are realistic too. We know that when we go to districts there will be some tough competition there, not just Hermiston, but some of the Bend schools, so we need to remain consistent. I think just us getting victories today is good for team morale and it balances out the loss."
The Eagles Indians worked a sweep on the doubles side, with the wins coming in straight sets.
Only once did they allow more than three set points.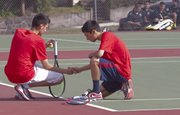 Chava Vasquez and Jose Santillan got things started on the right foot with an easy 6-1, 6-1 winner over Ryan Jensen and Ryan Ward.
St. Helens then sent out a No. 2 team of Jarrett and Miles Boynton, but they could not break the momentum of TDW's Ethan Semlor and William Coy.
The Tribe tandem had to work overtime in the opener where the score ended up at 6-apiece.
In the extra session, they finally found their strokes, taking a 7-2 triumph to lead 1-0. Semlor and Coy sent the Boynton duo packing in the second set with a 6-2 tally for the sweep.
At No. 3, Fernando Lopez and Antonio Argueta made quick work of Alex Rose and Shane Cooke, using groundstrokes and solid net play to produce scores of 6-3 and 6-1 for the win.
Daniel Spurr and Milo Romney completed the clean doubles sweep in their tussle against Tony Glenn and Wade Peterson, with a 6-1, 6-1 barrage to take their match.
Carlos Barajas struggled in his No. 1 singles match versus Caleb Johnston, with the St. Helens standout coming out to a closely matched 6-4, 7-5 triumph.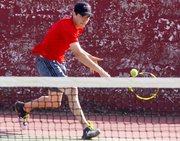 No. 2 player Cole McDowell got the Eagle Indians back on a winning trend, annihilating Keenan Reed by a 6-2, 6-4 margin.
Ben Dlala was up next in his No. 3 match against fellow foreign exchange student Bragg Engiberita.
The Tribe player never blinked an eye, as he dropped his Swedish opponent by a 6-3, 6-1 margin.
Blessed with a new pair of blue shoes, Christian Munoz used solid footwork and an overpowering serve to keep his winning streak going on a 6-0, 6-0 split over Jose Silva.
Overall, Hughes liked what he saw from his group in terms of executing the fundamentals of the game.
"After Carlos' loss, I thought we played our style of game and we were able to pull out victories all the way through," Hughes added. "I thought we served a lot better today. I thought we were the more aggressive team at the net in doubles and we were overpowering."
In other TDW pro-set matches versus St. Helens, Daniel Santillan blanked St. Helens ace Zack Kissinger in an 8-0 whitewash.
The No. 5 doubles tandem of Caleb Turner and Ryan DeHart jumped at their opportunity to hit the courts versus Chase Coughlin and Johnny DeWitt.
Turner and DeHart had to sweat it out a little, but still broke free late in their pro-set match to post an 8-5 tally.
On Tuesday at home versus Pendleton, Munoz scratched across TDW's only win with a dominant performance against Jacob Snell in the final match of the afternoon.
Munoz struck first in the opener by taking a 6-0 win and then he put the match to bed, notching a 6-3 split to grab a sweep.
All but two of the rest of TDW's matches were settled in straight sets, as Pendleton simply outmatched its foes.
Barajas came close to another winning showdown and he battled Vinny Whitesell in three tough sets.
Whitesell inched ahead in the first set by a 6-2 score to take a 1-0 lead, but Barajas answered the call in set No. 2 with a 6-3 effort to send this contest into a decisive third game.
Whitesell found a late edge and came away with a 6-2 win to fend off Barajas.
At No. 3 doubles, Romney and Lopez engaged with Pendleton's Ramon Contreras and A.J. Garcia in a three-set marathon.
The Buckaroo squad used a 6-4 effort to jump ahead, and then both Romney and Lopez matched wits for a 6-4 decision to move ahead to a tiebreaker.
Due to time constraints, the final game, a pro-set round settled things.
The Pendleton duo came out ahead in a 10-3 output.
TDW next hosts Parkrose High at 3:30 p.m. on Monday.