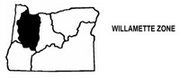 Go spring turkey hunting
Spring turkey season opened April 15. Find out what to expect with the 2013 Spring Turkey Hunting Forecast. Tips for beginners here.
Spring bear season open
Find out what to expect in the spring bear hunting forecast
Apply for a controlled hunt
May 15 is the deadline to apply for limited entry fall big game hunts. You can apply online, at a license sales agent, at ODFW offices that sell licenses, or by mail or fax order using the application found on page 17 of the 2013 Oregon Big Game Regulations.
WILLAMETTE ZONE HUNTING
OPEN: COUGAR, SPRING BEAR, SPRING TURKEY
Mandatory Reporting
Thanks to all hunters who reported their 2012 tags on time. Hunters who did not report 2012 deer and elk tags on time will pay a $25 penalty fee when they purchase a 2014 hunting license. If your 2012 deer and elk hunts extend into 2013, you have until April 15, 2013 to report your hunt. More information on reporting http://www.dfw.state.or.us/resources/hunting/reporting/index.asp
Hunters: Return black-tailed deer teeth!
ODFW asks that successful Western Oregon deer hunters return black-tailed deer teeth. See this flyer for directions
Hunter orange required for youth
Don't forget: hunters age 17 and under must wear a fluorescent orange upper garment OR hat when hunting upland game birds (except turkey) and game mammals (deer, elk, bear, cougar, pronghorn, goat, sheep, and western gray squirrel) with a firearm.
Use the Oregon Hunting Map to see where to hunt.
Industrial forestland owners will usually have information regarding access to their property posted on their gates and usually have a "hotline" devoted to providing up-to-date access for hunters. In addition, many private timberlands use the following link to provide information regarding the access policy for their private lands. Hunters need to have permission to hunt or make sure hunting is allowed before accessing private lands:
www.oregon.gov/ODF/FIRE/corporate_closure.shtml
BE PREPARED
Hunters are reminded to prepare for cold temperatures: dress appropriately and keep survival equipment such as food, water, sleeping bags with you and in your vehicle during the winter months. Let someone know where you will be and when you expect to return just in case your vehicle becomes stuck.
Spring TURKEY season is open through May 31. Turkeys are abundant in the foothills of the southern Willamette Valley. Turkeys prefer habitat with a mix of open meadow or grass land and oak forest. Unfortunately for hunters, this habitat is almost exclusively privately owned in the foothills of the Willamette Valley. Hunters will struggle to find turkeys on public property but good hunting opportunities exist for hunters that have access to private property. Hunters wishing to wishing to hunt in the Willamette Valley are encouraged to seek out landowners and ask for permission to hunt.

Spring BEAR season opened on April 1 for those hunters with a tag. Tags were allocated through the controlled spring hunt drawing for all hunts except SW Oregon, which is a limited first-come, first-served hunt. Tags for the SW Oregon hunt are sold out for 2013. Hunters are reminded to check the 2013 Big Game Regulations for their exact hunt boundaries, season dates and requirements for checking in their bear. As expected, biologists report few bears checked in so far this season. Bear activity will increase as the weather warms and spring progresses. Skunk cabbage and green grasses are preferred forage items this time of year. Early in the season hunters will want to target coastal areas or low elevation riparian areas and will want to choose warm, spring-like days to hunt. Hunters with limited time to spend afield will want to concentrate their effort during the last 3 weeks of the season.
Hunters are reminded that the skull of any bear taken must be presented to an ODFW office or designated collection site within 10 days of the kill to be inspected, tagged and have a pre-molar tooth removed for aging. Only the skull is required for the check-in and it should be unfrozen when presented. ODFW staff recommends that the hide be removed before check-in and hunters call ahead to make arrangements to have the bear checked. Please review the 2013 Big Game Hunting Regulations before your hunting trip to ensure that you are familiar with all of the requirements.
Cougar - Season is open. Opportunities to track cougars in the snow will diminish with the onset of spring but hunters may still find this technique affective for the next few weeks in the higher elevations of the Cascade Mountains. Cougars are challenging to hunt due to their secretive nature, penchant for traveling great distances, and characteristic low population density, but can bring large rewards for successful hunters. Some hunters have had luck calling cougars to them with predator calls that mimic a deer fawn or elk calf. The key to successful calling is to get within hearing range of a cougar, which will require that hunters be familiar with the local landscape characteristics, be aware of deer and elk patterns in the area, and understand cougar habits. Hunting with a partner is recommended for those hunters attempting to call cougars, since these animals can be difficult to see and hear as they approach. Calling for at least an hour from each calling location is important. Using a tree stand or sitting back-to-back is a good technique to cover all potential entry points.
Successful cougar hunters will need to check-in any cougar taken at an ODFW office within 10 days of the kill. Hunters are reminded that biologists located in field offices may be out in the field handling other issues so call ahead to make arrangements to have your cougar checked-in. The hide and skull must be unfrozen and the skull and proof of sex must be attached to the hide. Hunters are required to submit the reproductive tract of any female cougar taken. Please review the 2012 Big Game Hunting Regulations before your hunting trip to ensure that you are familiar with all of the requirements.
NEW: Hunters get a free Sauvie Island parking permit with their purchase of an annual hunting license. Display on car dash. The parking permit is also required at EE Wilson Wildlife Area near Corvallis and a number of other areas. More information.