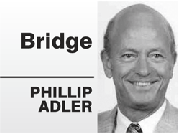 Carey Mulligan, an English actress who made her Broadway debut in "The Seagull" in 2008, maintained, "I never said I wanted to be a lead actress; I never said I wanted to be a film actress. This need to trump everyone bewilders me. I'm only 25. I'm not better than anyone. I just want to watch other people and learn to be good."
That is a great attitude for up-and-comers in anything, including bridge. But at times there is a need to trump everyone with a trump card. In this deal, South is in four spades. West leads the diamond king. How should East plan the defense?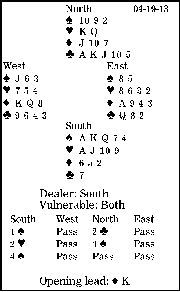 If you have adopted two-over-one game-force, North would rebid two spades. Then South, with that unappealing singleton club, would probably jump to four spades. But if he settles for three spades, North should be happy with four spades. Despite his good-looking heart honors, his trumps are poor and he has only one ace.
Yes, this deal is a complement of yesterday's. First, East signals enthusiastically with his diamond nine. West continues with his queen, then leads his third diamond. After winning with his ace, what should East do next?
As I have been stressing all week, East should check the points. West has produced five, the dummy has 14, and East holds six. That leaves 15 points unaccounted for. If West had the heart ace, he should have cashed it before playing the third diamond. So the defenders cannot have another side-suit trick. East should lead his last diamond. Here, that promotes a trick for West's spade jack.