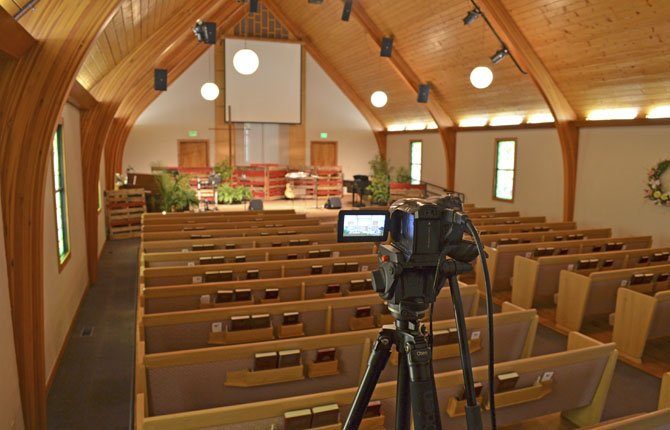 Thanks to having a tech-savvy minister, Dufur Christian Church has started streaming its worship services live on the Internet.
Minister Tim Fain, who also works creating videos, thought it would be a good way to reach out to people who are out of town, home sick, or are just curious about what goes on at Dufur Christian, and want to get a sense of the church before they come to visit.
With an investment of $469 for the right camcorder, and $50 for a broadcast licensing fee for Christian songs being used, the church was up and running.
"We can do it like any other place that live streams anything. We set up a camcorder and use our Internet connection to live stream it out," he said.
The website itself that streams the sermon, new.livestream.com, is free.
After working some bugs out in its maiden voyage — such as how close to zoom in (Fain didn't know if people with bald heads wanted to be featured on the video) — the church has already streamed one sermon and a women's retreat it recently hosted.
"My biggest goal is people who are scared to go to church, they can sit in their robe and see the philosophy of the church, see how they'd be accepted, see how the leaders act," Fain said.
"What kind of words do they use? Are they a hellfire and brimstone church or are they one that offers grace? People often don't get grace in church," he said, adding, "Anyone's welcome. We're all sort of in the same boat, we all have hang-ups and problems that God needs to work out of us. They can check that out online if they want to see."
Past sermons have had anywhere from 20 to 45 people following it live.
He has about 80 people coming to worship services, and is pleased to have another 20 to 40 following from afar.
The sermons are stored for 30 days on the website. It can be accessed through a Facebook account, or by creating an account on the website itself.
Dufur Christian Church is listed as one of the live streams available for viewing.
"The other thing that's cool about the live stream, people can chat with each other about prayer requests," he said.
He's still trying to get the sound to work better.
He said the congregation thought the idea was "wonderful" and it had the full support of the church leadership.