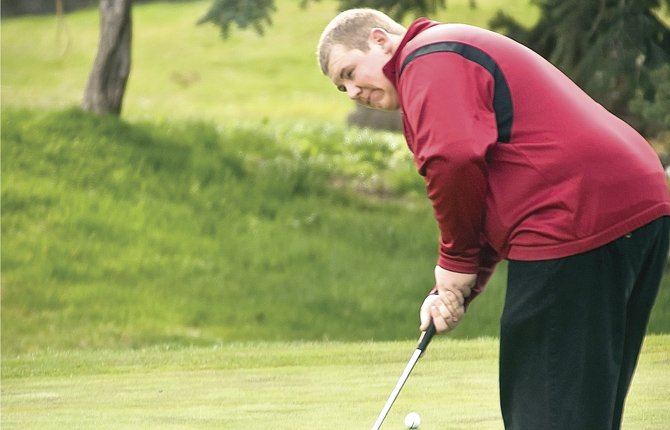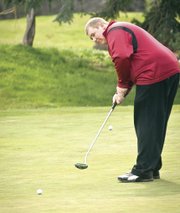 Watch out Columbia River Conference, The Dalles Wahtonka boy's golf team is climbing up the charts with scores that are dipping lower and lower.
Four Tribe players stroked out numbers less than 95, led by Nick Glesener's 90 to place them fourth, 26 strokes behind Pendleton (343).
"They are really improving. This is our lowest score by a few strokes again," said TDW head golf coach Kent Smith. "We kind of keep slowly improving. The short game that we have stressed here lately is coming along."
Glesener shot a 43 on the front-nine and then followed up that tally with a 47 for his 90.
Freshman Bailey Ortega stayed within his best margin of the season at 92, as he coasted to the final backstretch with a 45.
Senior Dakota Green used those two players as a litmus test and he answered on this day with a 45-48 for a 93 on his toteboard.
Although he struggled on the more difficult back nine with a 50, Coby Conlee busted out of the blocks in his opening nine holes, where he sent in a sparkling notch of 44, second best amongst the Eagle Indian team.
Capping the TDW field was senior Bobby MacLeod, who swung it out to the tune of a 124.
"I am proud of them. We still have some work to do, but I am impressed by some of the shots," Smith added. "The consistency is not there, but they are building on what we have been working on. Occasionally, they are getting a few good shots, but now we have to put a few more of them back-to-back."
This group is focused on establishing a continued fundamental base during critical practice sessions.
Three of the five (Glesener, Conlee and Ortega) are coming back next season and the duo of junior Thomas Cowart and up-and-coming freshman Darsh Patel are clipping at their heels for extended playing time.
Course management, club selection are keys to the game along with putting and drive accuracy.
"We still struggle a little bit getting close to the flag, sometimes coming way too short or way too long," Smith said. "That has to do a little bit with their youth, but they are still improving on that end."
Richland, Washington's Hunter Thompson scored a one-over par 73 for medalist honors to lead Richland to first place in the team standings with a 306, 30 strokes better than Walla, Walla, Wash. (336), who ended up in second place.
Hermiston (337), Pendleton (343) and a resurgent The Dalles Wahtonka (369) rounded out the top-5.
Kamiakin, Wash. tallied 374 for sixth place, Mac-Hi had a 376 for seventh, La Grande (389) secured eighth and Hood River Valley added a 489 for ninth place in the nine-team field.
Pendleton's Walker Hoolehan continued his upward swing on the links with his 75 and Richland's Jeffrey Marcum carded a 76 along with Walla Walla's Dean Atkinson (76) for a fourth-place deadlock in the individual standings.
At fifth place overall was Richland's Drew McCullough with his 78, a mark that put him five shots behind the leader.
Although Hermiston and Pendleton have remained ahead of TDW for most of the season, Smith admitted that things would get interesting in the next 18 calendar days before district action kicks off on May 6-7.
"We were 26 strokes away, which is a lot to make up, but they are getting closer," Smith said. "They know that if they have any chance to go to state as a group, they will have to continue to keep working hard over these next few weeks to see if they can put it together. I am optimistic that they can do it."
The next challenge for the upstart Eagle Indians is Tetherow Golf Club in Bend at noon on Monday.