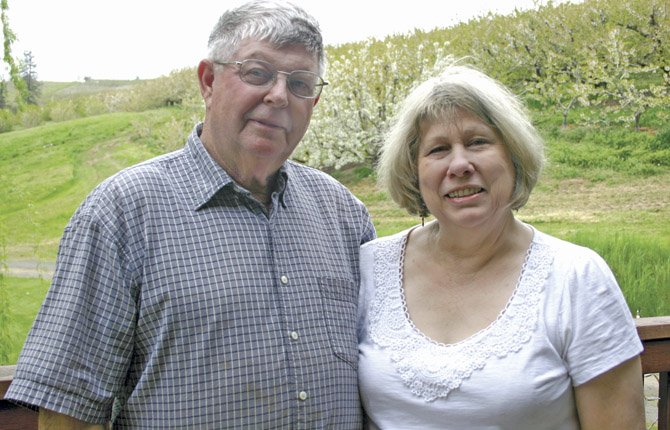 These days, Randy and Dawn Barrett enjoy spending time at their Mill Creek Valley home, Randy cutting wood or tooling around on a tractor, helping on the orchard the family leases out to the Synons, Dawn enjoying time with the kids and grandkids.
The Barretts look out on their own cherry orchard every day, a suitable setting for this year's Northwest Cherry Festival King Bing and Queen Ann.
"We've been on this place for 47 or 48 years," said Randy.
"We lived down below in a little old house until we built this one," Dawn added.
Their current home nestles against a hillside of blooming cherry trees.
"I grew up down the road," Randy said. "My daddy had an orchard, too."
For many years, the Barretts owned and operated Muirhead Canning Company, a company with a Pacific Northwest Reputation for canned fruit a cut above the common variety.
"It was packed when it was ripe," Dawn noted.
"It was our aim to have a higher quality product, because we had to charge more for it," Randy added.
The cannery continues to operate from just up the road in the Mill Creek Valley.
"We bought it from my uncle, Sam Muirhead," Randy said. "My grandpa started it some time before that."
The Barretts retired and sold the company in 2006, its 60th anniversary.
"I'm proud of what Randy did," said Dawn, though she worked in the office, too. "He worked out there day in and day out like a laborer."
Now the Barretts have more time to themselves.
Three "trips of a lifetime" to Israel satisfied any wanderlust the couple may have felt.
"Now we're content to take the fifth-wheeler up to LePage Park," Dawn said.
Dawn enjoys knitting. Randy keeps the garden in order and says he likes trains, big and small.
Dawn is on the board of Sonrise Academy, while Randy helps out when maintenance is needed at the school. They both attend Grace Covenant Church in Dufur.
The Barretts have five children, four who still live in The Dalles. This gives the couple close access to their seven — with another on the way — grandchildren and two great-grandchildren.
They aren't sure what they think about donning the regalia of Queen Bing and Queen Ann, but enjoying the Cherry Festival activities "sounds fun," Dawn said.