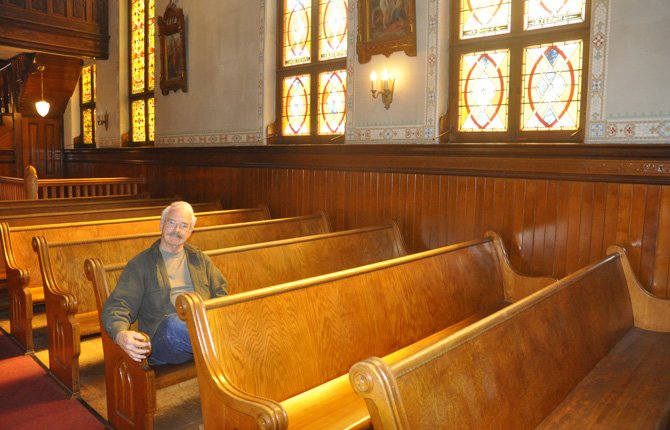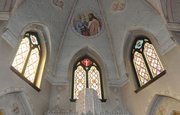 St. Peter's Landmark is a defining characteristic of The Dalles' silhouette, but in 1971 it almost disappeared from the landscape altogether.
"It's a fairytale story. I'm still amazed it all worked out," Doug Leash said.
Leash, who was president of the landmark's board for more than 40 years before stepping down this month, was part of the group of preservationists who saved the historic building from destruction after the local Catholic parish applied for a demolition permit.
"The attorney said you've got 60 days or the wrecking ball is going to hit this building," Leash said, recalling the standing-room-only meeting where he and others tried to convince the city council to declare the church a protected historical landmark. "We had no money and we had just gotten organized."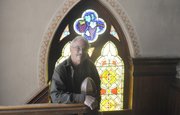 What followed was a frenzied fundraising effort during which the newly formed nonprofit tried to raise $25,000 in two months. They succeeded — barely.
"At the end we were still $4,000 short and a local man wrote us a check and said 'buy it.' I don't know what we would have done otherwise," Leash said.
Once the building was purchased, however, the problems didn't end. The board needed more money to repair the problems that had prompted the parish to decide to build a new building, but those interested in the building's welfare had reached deep into their pockets already to save the landmark from destruction. The solution was a long-running rummage sale out of the basement of the church, which back then had a dirt floor and no sheetrock.
"Three to four women just dedicated their lives to that … if it hadn't been for that rummage sale I'm sure we wouldn't have the building," Leash said.
He said he isn't Catholic and hadn't attended church in the landmark, but he, like many others, wanted to save the building because he felt that it was an important part of the community's history and a beautiful building. Leash, a now-retired high school art teacher, has always been interested in architecture.
There was another president of the nonprofit's board before Leash but he doesn't remember which board member it was or how he ended up as president so quickly afterward. He didn't even think he had been in as long as he had until he recently came across a letter he had signed as president that was dated 1972.
Alan Eagy, who was tapped to replace Leash as board president, said Leash is more than a board president — he has also been the landmark's painter, plumber, groundskeeper, docent, decorator, cleaner, bookkeeper, grant writer and just about everything in between.
"Having lived across the street from the Landmark for the past 16 years, I have found that it is a rare day when Doug's car or truck is not parked out front," Eagy wrote to the Chronicle. "It is not unusual to see him up on a ladder painting trim, mowing, trimming bushes or doing work inside the building."
Since the building was purchased, St. Peter's Landmark has been improved on a number of fronts. The basement is now furnished, there is air conditioning, restrooms have been added and the building is handicapped accessible, among other changes. Leash said the board has put about $300,000 of fundraised money and $120,000 of urban renewal money into the building.
It costs about $20,000 a year for things like insurance and utilities. Right now the board is working on repairing the stained glass windows, which are getting more and more warped, and they need to find the money to repaint.
"I think that's why so many buildings like this have been torn down around the country; they're just money pits," Leash said.
He said over the years the number of concerts hosted in the building seems to have stayed about the same, although weddings have dropped from around 14 a year to seven or eight as outdoor weddings and winery weddings become more popular.
He said the landmark advertises with the AAA and that seems to draw a good number of tourists from around the United States and even other countries. He also said that many people come in and say they were driving past The Dalles and saw the steeple and decided to pull off and see it.
"Sometimes I will hear the buzzer and come out and the person is praying," Leash said. "Even though the building has been de-sanctified, to them it is still a church."
After stepping down as president, Leash has chosen to remain on the board as treasurer. But he said he realized at a recent workshop for members of boards that at age 74 it's time for him to start training someone else to take his place.
"The guy speaking said one of the main things a board should do is try to see problems ahead and forestall them, and I thought, 'That's me.' If I died tomorrow nobody knows where anything is or who to call to repair the organ," Leash said.
Leash said he doesn't think much will change due to him stepping down — after all, as other board members have come and gone over four decades, things haven't changed much.
"It's funny, over 40 years the philosophy and general outlook of the board hasn't really changed," Leash said. "We want to maintain the building and let the public see it. We really consider the building the community's. It isn't ours."