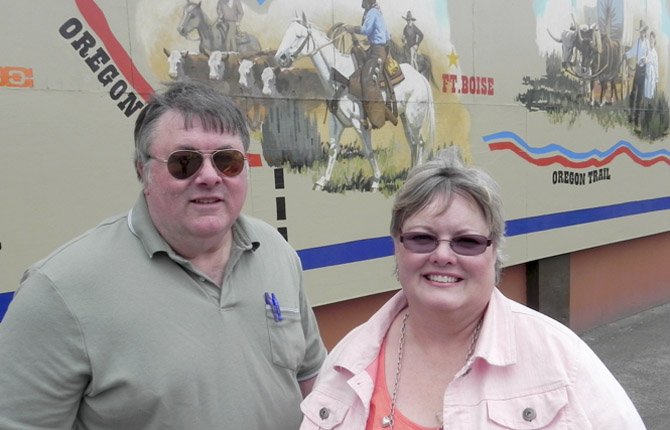 Yes, the Professor and Mary Anne will be making an appearance at the Northwest Cherry Festival this year — Mary Anne Macnab, that is, and her husband, OSU Sherman County Extension Agent Sandy Macnab, who is a full professor with Oregon State University.
The Dufur couple will lead as grand marshals of the Northwest Cherry Festival Parade, which starts at 10 a.m., earlier this year than in the past. They're hoping to get their good friends Dawn and Randy Barrett, this year's King Bing and Queen Ann, to ride in the same car with them.
The couple have been married 31 years. Sandy claims with a straight face that Mary Anne won him in a contest.
"He came into the office and asked who could name the seven dwarves," Mary Anne said. "He was really into trivia. That was the only answer to any kind of trivia question I knew, but I guess that was enough."
"I was twitterpated," Macnab said.
Sandy told Mary Anne in their first date that he came from a large family of eight kids.
Mary Anne was unfazed.
"That's really only two-thirds the size of ours," she said. "I was one of 12 brothers and sisters.
While Sandy was raised in Sherman County, Mary Anne was born in Ontario and grew up mostly in Idaho.
Mary Anne is a homemaker who enjoys art and, when the couple met, had just started a 4-H clown club. She also worked on a museum project in Sherman County. She went back to school in 2001 and got a two-year degree from Columbia Gorge Community College, though she freely admits it took seven years to complete.
"I got side-tracked with the ceramics and painting classes," she said.
She also served a stint as an artist, painting pictures in a gallery in Moro.
Mary Anne has also taken up the ukulele and plays in Mosier twice a month at the Columbia Gorge Ukulele Association gatherings. She's also a member of the Dufur Garden Club.
Sandy's career with the OSU Extension Service has been a long and varied one, starting in 1979 when he was hired as an instructor. In 2012, he was inducted into the National Association of County Ag Agents hall of fame, one of only 27 inductees, which also helped him earn The Dalles Area Chamber of Commerce Agricultural Achievement Award this year.
Dufur, Macnab serves both Sherman and Wasco County as Extension faculty, doing what county Extension agents have done since the 1860s: bringing practical university knowledge to people where they live. It's something he doesn't do in a vacuum.
That's why Macnab's job involves a lot of community partnerships. "Doing good for the community — that's the bottom line," he said.
The Macnabs like to go out on what they call "deer runs."
"We like to go out and see how many deer or elk we can see, or any other animals," Sandy said.
They also like visiting with their grandkids. They have three children, Scott, David, and Jennifer and her husband,Drew, and their children Anna and Avery.
The Macnabs say they are looking forward to taking in some of the Northwest Cherry Festival fun, starting with getting tickets to the lip sync contest this coming Thursday, April 25. Of course, they'll be in the thick of things Saturday, April 27, heading off the parade.