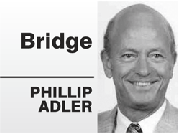 Neil Armstrong, in a graduation speech at the University of Southern California in 2005, said, "I hope you become comfortable with the use of logic without being deceived into concluding that logic will inevitably lead you to the correct conclusion."
At the bridge table, the use of logic should lead to the correct conclusion.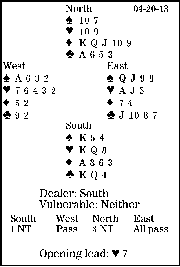 In today's deal, South is in three no-trump. West leads the heart seven: nine, ace, eight. What should East do next?
First, let's have East check the high-card points — our theme for the week. South showed 15 to 17, dummy has 10, and East holds nine. That leaves four to six points for West.
Next, it is common in no-trump to return partner's lead, and many players would lead back the heart jack without further thought. Here, South would gallop home with at least one overtrick.
East should also read the lead; what can he learn about his partner's heart holding?
Usually, West would lead fourth-highest from his longest and strongest. So East should apply the Rule of Eleven. Seven from 11 is four. This means that there should be four hearts higher than the seven in the North, East and South hands combined. But at the first trick, East saw five higher hearts: dummy's nine and 10, his ace and jack, and South's eight. West cannot have led fourth-highest. Instead, logic says that the heart seven must have been top of nothing.
If South has the heart king and queen, there is no logic in returning that suit. Instead, East should shift to the spade queen. Here, that works beautifully, gaining the first five tricks for the defense.