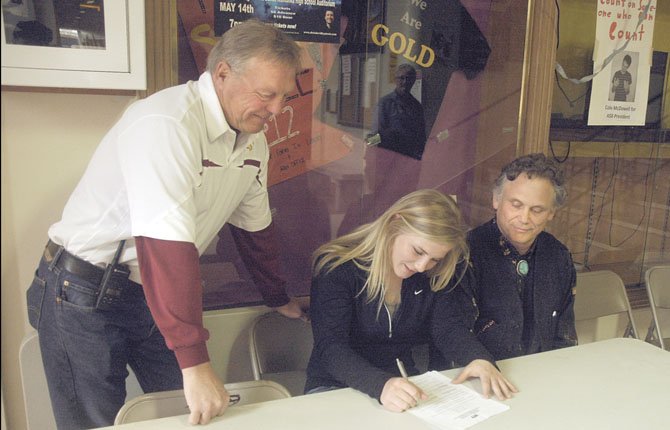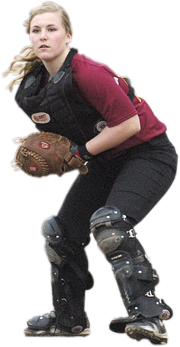 Through a person's life, they make choices — some good and some bad. Some that could influence life down the road.
The Dalles Wahtonka High School senior Katherine Kramer nearly hung up her cleats and stashed away her catcher's gear after not receiving any college offers, while all of her contemporaries were.
It was a time of reflection for the perennial all-league and all-state athlete, because this was a big step in her life – to hang it up – for good.
Helping her in the decision-making process was her father, Kevin Kramer, a just-retired wrestling coach after more than three decades, a former top multi-sport athlete and state champion wrestler in his own right.
They had a heart-to-heart, where tears were shed – no matter what, he would support her choice.
He did instill a nugget of advice – think about it – long and hard.
After much deliberation, while weighing the pros and cons, Kramer embraced this emotional moment and moved forward with the thought that she would continue her softball career.
Just one year later, a Division I school came calling.
Wednesday, Kramer signed a National Letter of Intent after receiving a half scholarship to play softball at the University of Pittsburgh, where she plans to study to become a dental hygienist.
"I am so glad I kept playing. So many people go through some moments of doubt and uncertainty and it was a big choice that I needed to make," Katherine said. "I am so thankful for my dad. He has been a huge part of my life and a great role model for me. He and my mom (Vonna) are the best parents to have. They are so supportive and giving. They have sacrificed so much for me to play this sport. I felt it was important for me to give back."
It is a major step in the senior's life – she has been playing softball for several years, at different levels, since being a part of The Dalles' 12U Cherry Crush softball program, coached by Bob Delaney.
In playing with elite travel teams from West Linn and the Northwest Bullets, Katherine has traveled everywhere in the Northwest, California and Arizona for tournaments.
Success has also followed her through the years – On the Crush, Katherine Kramer placed as high as fourth on a 14UB team.
For the past three years, she was a major component in TDW's varsity squad earning trips to the 5A OSAA state semifinals.
Last summer, on an 18UA West Linn Whales team coached by Jamie Leveque, Kramer and former high school teammates Ann Marie and Chelan Guischer went undefeated in both the regional and state tournaments before hoisting an ASA championship trophy.
In all three of her high school seasons, Kramer earned first-team all-Columbia River Conference recognition, and in two of those years, (there were no selections made in 2011), she grabbed a spot as a first-team recipient on the 5A all-state team.
A feeling of excitement
As a former all-league and all-state player herself, Chelan Guischer, who is currently playing softball at Linfield College, knows Katherine Kramer will fit right in against Atlantic Coast Conference competition.
She calls Kramer a solid person and an extended member of her family.
"She is an amazing player with a lot of talent, but even more important, a supportive teammate," Chelan said. "A lot of us girls grew up playing together and through softball and school, became very close. Katherine is like another sister and can always find a way to lighten the mood of the team with her personality. She has everything you want to see in a teammate and will be very successful at the next level, no doubt about it."
In being a standout softball player at TDW, there are countless hours dedicated to the cause.
The sphere of influence spans further than just the junior varsity, the Cherry Crush program, summer league teams that she has participated with for several years, but serving the community with pride, honor and dignity.
Katherine Kramer has been able to succeed in that regard, earning a spot on the honor roll for all four years, while holding a post on the Yearbook Club, as a Teen Leader in Project Alert (educating middle school students about drugs and alcohol) and she also gave back to her roots, as a volunteer assistant in Crush practices.
"One thing about Katherine is that she is tremendously dedicated and unselfish," said head coach Steve Garrett. "She is always a person who thinks of others before herself. She is humble, grounded and thoughtful. Those parts of her personality will carry her further in life."
Katherine Kramer represents a long line of TDW athletes who have made the jump to the community college or Division I level in an athletics capacity, joining Rylee Parke, Sarah Clark, Katie Johns, Jamie McBride, Jessica Wood and a host of others.
Another former all-league teammate, Kelsey Martinson, complimented Kramer on her tremendous career and the road it paved.
"I am so unbelievably proud of Katherine and I am also so excited to see her do well at the next level," Martinson said. "There is no doubt in my mind that she won't dominate. She's an incredibly hard worker and always strives to do better and she deserves this so much. It has been great watching her grow throughout the years, not only as a softball player, but as a person as well. She deserves this and will do great at Pittsburgh."
Dedicated coaches build foundation
While the landscape changes for Kramer, much of the work continues. It is through the years spent with Delaney, renowned hitting coach Doug Sawyer and a host of others who have dedicated their time in preparing Kramer for this next stage.
She expressed gratitude and thanks to Sawyer and everyone else involved.
Last season, Kramer finished the regular season with a team-high .446 batting average with four home runs and 24 RBIs.
In the playoffs, she added three more long balls, including the eventual game-winner in a 2-1 quarterfinal win over Rex-Putnam.
What is even more impressive than her ability to hit 300-foot home runs is the fact that Katherine Kramer makes contact – in her junior year, she struck out only five times in 38 plate appearances.
On defense, she was second on the team with a .992 fielding percentage with only one error in 122 chances.
In her career, the Tribe senior has displayed an all-around acumen, playing well at third base, catcher and outfield.
She has also called a perfect game and a handful of no-hitters.
Katherine brings a long pedigree of success to the table, along with a work ethic and a desire to excel.
"I need to work on every aspect of the game. I am sure if I work hard, I should compete," Katherine said. "The college game is totally different and I know I have to work 10 times harder in order to be successful. Here, I was one of the top players, now I join a team that has many players that are the top of their classes from all over. I am hopeful I can do well."
Garrett's lasting word for his prized pupil was establishing a willingness to endure, especially as the level of competition is raised a few notches.
"I think one of the biggest things for Katherine is being patient," Garrett said. "Every day, the practices will get much harder and the games are going to get much tougher. There are no weak players out there. It will be a very different ball game, so how she adjusts will be critical. She has an exuberance about her, so I know she will do all she can to contribute."

Those strong family ties
Two people torn on the college issue are Kramer's parents Vonna and Kevin, both District 21 teachers. Through the years, those two have been a stronghold in her life, while embedding a healthy home environment, and a solid foundation of stability. Those two were there every step of the way, whether making long trips for tournaments, practices, club ball or other activities. "We are very proud of her. She has worked very hard to accomplish all of her goals," Kevin said.
The elder Kramer feels as though these years of athletics teach a person so many of life's lessons.
As a former coach, he tried to impart that knowledge to his students – now he heeds advice to his youngest child.
"Athletics teaches us a lot about ourselves and, in a way, helps in the decision-making process and how to overcome obstacles," Kevin said. "Just like softball, and other sports, how you handle adversity makes you a better person. I know Katherine will go out there and give it everything she has." Kevin Kramer exhibited some emotions, as he thought of the prospects of his little girl all grown up and going to college. On one hand, he was glad his daughter would get an opportunity to continue her athletic career.
On the other hand, this giant step is bittersweet in some regard. "It is going to be the best thing and the worst thing," Kevin said. "She is reaching a goal and for something that she has always wanted to do since she was a little girl. I know she will be successful. I will miss seeing her every day and that is going to be rough. I knew this day would eventually come, where I would see her off to college, but it just hasn't really sunk in yet."