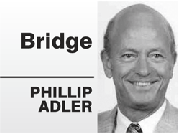 Richard Cobden, a 19th-century English politician, said, "A newspaper should be the maximum of information and the minimum of comment."
If you get the maximum of information at the bridge table and use it wisely, you will make the minimum of errors.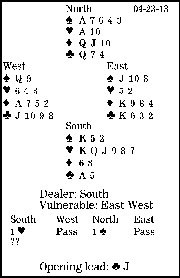 First, though, let's look at the auction. What should South bid on the second round?
He should rebid two hearts, guaranteeing at least a six-card suit and 12-14 points, a minimum opening. With only five hearts, South would show a second suit, bid no-trump, or raise spades (perhaps with only three).
Then North, knowing about an eight-card fit, raises to four hearts. (Note that four spades by North fails if East leads a low diamond and West shifts to the club jack.)
After West leads the club jack, what should South do?
First, he should count losers by looking at his 13 cards and taking dummy's winners into account. He has four: one spade, two diamonds and one club.
Second, he counts winners. Here, he enjoys 10: two spades, six hearts, one diamond and one club. So, he can get home as long as he does not lose four tricks.
To eliminate that spade loser, declarer must establish his diamond winner.
Suppose South tries dummy's club queen, captures East's king with his ace, draws trumps, and leads a diamond. The defenders can win, cash a club, and shift to spades, but South wins in his hand and plays another diamond. With the spade ace still in the dummy, he has 10 winners.