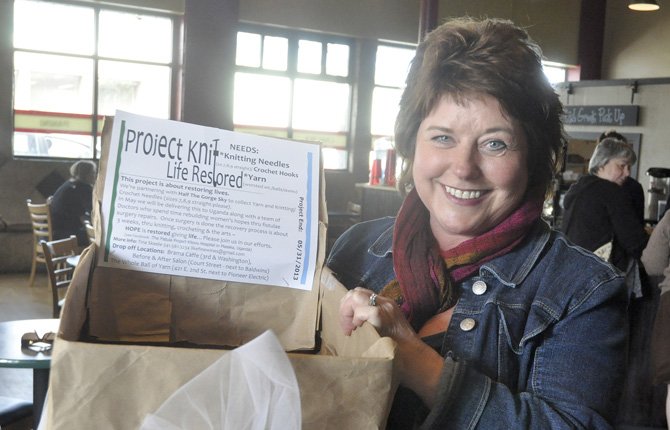 Tina Skeele is collecting yarn, knitting needles and crochet hooks in The Dalles to help better the lives of women half a world away.
Under the title Project Knit, Life Restored, Skeele has put collection boxes at three The Dalles locations, Brama Caffe, Before & After Salon and The Whole Ball of Yarn, to collect yarn she will ship to Mikasa, Uganda, to help with the recovery of women who undergo fistula repair surgery.
"Obstetric fistula is a hole in the birth canal caused by prolonged labor without prompt medical intervention, usually a Caesarean section. The woman is left with chronic incontinence and, in most cases, a stillborn baby," according to online information at www.endfistula.org.
The smell of leaking urine, feces, or both is a constant and humiliating barrier to social interaction, often driving the loved ones of patients away. Left untreated, it can lead to other chronic medical conditions.
Fistula is almost entirely preventable, but End Fistula estimates about 2 million women in Africa, Asia and the Arab region live with the condition and between 50,000 and 100,000 new cases occur each year.
Skeele learned about the problem at a gathering of Friends of Half the Gorge Sky.
"Jennifer Wilde was sharing about a recent trip to Uganda," Skeele said.
Volunteer medical doctors travel to the area to perform the repair surgery. Knitting and crochet help distract the women while they await surgery and during a lengthy recovery period. It also enables the women to make clothing and household items for themselves and their families, as well as generating income.
"I thought [collecting yard] was something I could do," Skeele said.
She combed the second-hand stores for yarn and placed the Project Knit boxes around.
"I've already got six huge black bags of yarn," she said. "It's so amazing. People are so generous."
Skeele will collect yarn until May 13.
For details, see The Fistula Project Kitovu Hospital in Masaka, Uganda on Facebook, or contact Skeele at 541-561-3234 or likefinewines@gmail.com.