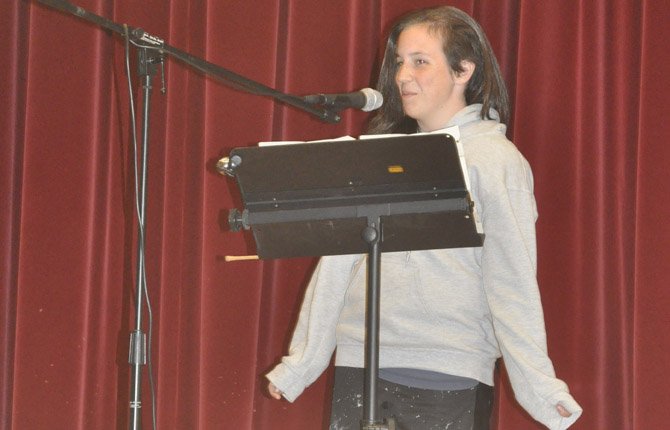 Twelve poets showed off their skills during the annual poetry slam hosted by North Wasco County School District 21 in honor of National Poetry Month.
Poems from a second grader's rhyme about a fox in a box to more serious subjects like the death of a father.
"I wrote this poem at a hard time in my life, when I was having trouble with bullying. I was being bullied, and it was a nonstop war with a girl in my school," said poet Cecilia Pincock as she introduced her poem urging teenagers to "put down the gloves and step out of the ring" instead of continuing the cycle of insults.
Dorothy Young, winner of the middle school division, described the drummer boy in her temple and 1,000 tiny soldiers stabbing at her skin as she pushes herself to go farther during a run.
Other winners were Rory O'Halloran, whose poem "Autumn Leaves" was the only one entered by a teacher, Arden Reid, the elementary schooler who described the mesmerizing colors in her teacher's ring, and Ashelyn Edmisten, who described her confusion and sadness when her father died when she was two.
Klindt's Booksellers helped provide prizes and judging for the slam and the new arts club Voice Box filmed the event.
Before the poetry slam began attendees listened to a concert titled "Love and War." Musicians played folk music and also improvised music behind the poems of district librarian Jim Tindell and visiting author Roseanne Parry.
"I've done my best to let war go, made peace of mind my goal. But for all my careful effort, my heart's still on patrol," Parry wrote in "Armored in Afghanistan" from the perspective of a recently returned veteran haunted by the memory of a fateful day in Afghanistan.
Parry, who currently lives in Portland, is the author of juvenile fiction books "Heart of the Shepherd" and "Second Fiddle."