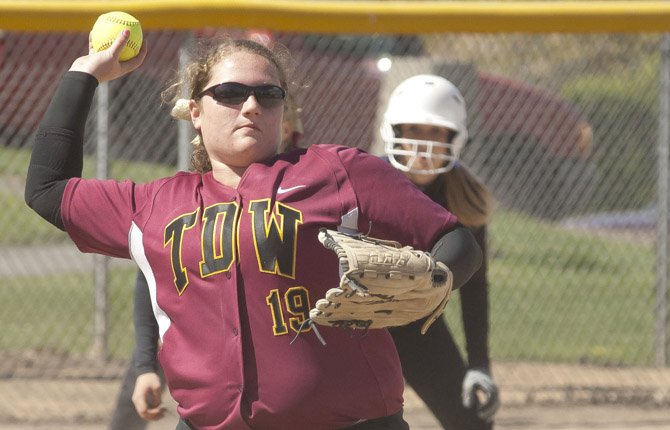 The Dalles Wahtonka softball coach Steve Garrett called Saturday's nightcap triumph over No. 1-ranked Pendleton meaningful in many ways.
TDW's Kella DeHart hit a grand slam to pace a seven-run fourth frame and senior pitcher Melanie Taphouse produced her best outcome of the season in leading the Eagle Indians to a 9-8 victory in Pendleton.
It was poignant response by a Tribe softball squad that had been held to just one hit – a second-inning single by Morgan Goslin – in a 10-0 loss in the opener.
"We woke up in that second game. It is one of those things where the hitting was contagious," Garrett said. "Once someone started hitting the ball, everyone else got on the bandwagon and we started looking more and more like the team we are. We got the spark we needed to get going."
Down 3-2 in the top of the fourth, the Eagle Indians sent 11 batters to the plate and reeled off seven hits, two going for extra bases.
After hits by Morgan Goslin, Meghan Rowland and Carley Gowdy loaded the bases, Hannah Harris cashed in Goslin with an RBI single to center to tie the score at 3-apiece.
DeHart then came up to the dish with the bases still loaded and rifled a deep shot to center field for a grand slam home run to move the Tribe in front 7-3.
Katherine Kramer safely reached after being hit by a pitch and then Taphouse singled to put runners on first and second.
Morgan Triperinas capped the scoring barrage with a bases-clearing, two-run triple to left centerfield to bring in Kramer and Taphouse to make it, 9-3.
As the game went on, Pendleton brought in reliever Marissa Jones, who restored order and the offense began chipping away at the Eagle Indian lead.
The Lady Bucks scored two runs in the fourth inning and later tacked on two more runs in the fifth on a home run by Tiah Grass to make 9-7 entering the sixth.

TDW went scoreless in the sixth and Taphouse escaped a two on, two-out jam to keep the Eagle Indians ahead by a pair of runs, as a strikeout of Rayne Spencer followed by a groundout ended the threat.
In the seventh inning, Grass drove in Reeghan Lehnert with an RBI single to make it 9-8 with one out.
Jones then followed with another single to put the tying and winning runs on base with the top of the order coming up.
Taphouse buckled down and got leadoff hitter Darian Lindsey out on a popout to right field for the second out.
Senior slap hitter Shea Lindsey represented the last chance for the Bucks. On the 1-1 pitch, Taphouse induced a game-ending comebacker to preserve the win.
Gowdy got the win in the circle, as she tossed 3 1/3 innings of six-hit ball with two walks and a strikeout.
Taphouse finished the final 3 2/3 and allowed four runs on six hits. The senior right-hander fanned one and walked one to earn the save.
All this season, Taphouse has struggled with elbow problems, but gutted it out Saturday to help her team when the game was on the line.
Garrett likened this effort to the Taphouse of old in the circle doing what she does best.
"It was a great comeback win," Garrett said. "Melanie had a great game. She was keeping the ball down and kept them off balance. She hit her spots, was painting the corners and she did such a great job out there for us. It was really a treat to watch her perform as she did. If she can bounce back and give us more innings, we will look like a much better ballclub than we have lately. I give her double and triple kudos for what she did today, because that is the Mel we like to see."
TDW (10-8 overall, 1-4 league) hosts Pendleton tonight, and then hosts third-place Hood River Valley for a doubleheader at noon Saturday.