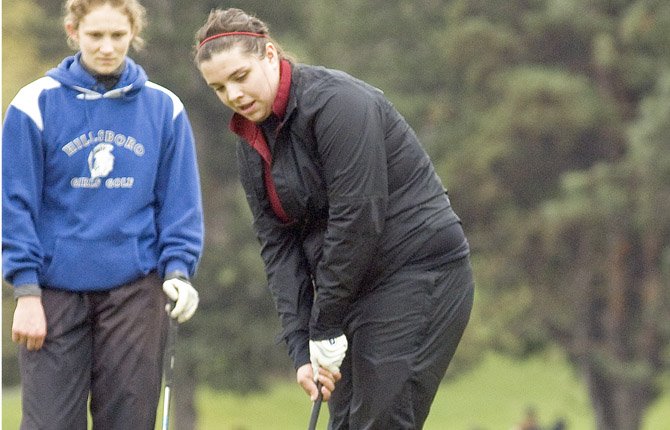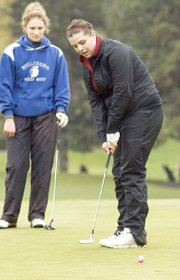 The Dalles Wahtonka girl's golf team sent three golfers out to the links at Bend Golf and Country Club for another test against a solid field of three teams and 18 individuals for the annual Bend Invitational Monday afternoon.
Once the numbers went in the books, TDW senior Jessica Riggs placed ninth with her 105 on the scorecards, while 2012 state qualifier Elizabeth Peters turned in a 106 for 10th place in the standings.
In 18th place was TDW newcomer Jennifer Bonham with her 143 put in the books.
"We still have a lot of work to do. Some of the scores were a little higher than expected, but I know we will improve," said TDW golf coach Dan Telles. "We had been working the last week on correcting some of our swing problems and getting the mechanics down where they are hitting the ball down the fairway."
On the team front, Summit scored a 323 for first place and Hermiston grabbed second with a 411. Crook County added a 445 for third place.
Summit's Madison Odiorne had four birdies for her 73 in taking medalist honors and teammate Sarah Heinly (80) was good enough for second place.
Summit's Megan Mitchell (84) and teammates Madi Mansberger (86) and Alyssa Kerry (91) rounded out the top-5 individuals.
Hermiston's Madison Welch carded a 92, Chelsea Shank (94) wound up seventh, and Hermiston's Kim Nevil (101) wound up eighth.
TDW may re-schedule another event in the next week or so, but if not, they have 14 days of practice rounds until districts on May 6-7 in Hermiston to iron out a few elements to the game.
"Hopefully, we can get better in the weeks to come," Telles said. "They are getting better and they want to get better. With these scores, it shows the practice time is helping. It will come down to our short game and putting. If we can improve on those, we can make a move."
TDW boys place 12th out of 16
Nick Glesener shot a team-best 89 and The Dalles Wahtonka boy's golf team finished in 12th place out of a 16-team field in Monday's 5A High Desert Challenge at Tetherow Golf Course in Bend.
On this tough course, Glesener was able to put up one of his best scores of the season with his 89, a mark that was 10 strokes better than his next teammate, Coby Conlee.
Conlee ended with a 99 on his scorecard for a solid marker and the other three Eagle Indian golfers combined to average a tally of 117.
Freshman Bailey Ortega and senior Dakota Green posted 107 to their cards and senior Dylan Fitzgerald added a 137.
Summit's Tyler Bahm lapped the field with a 73 to take medalist recognition.
TDW coach Kent Smith knew it was going to be a stiff challenge, so these marks can be used as learning tools for the next few matches.
The Eagle Indians next hit the golf course at Meadow Lakes Golf Course at noon Thursday in Prineville.