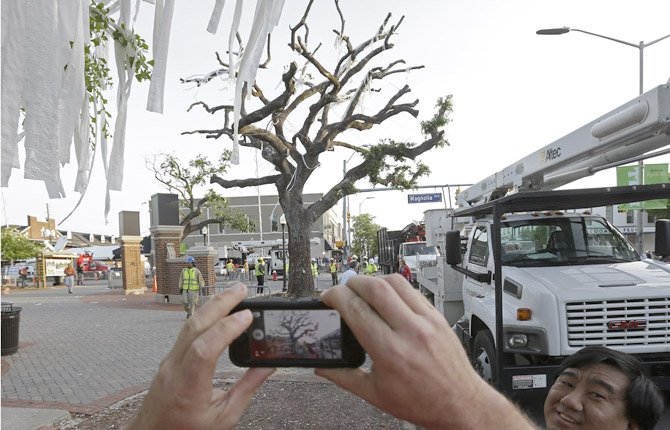 Iraqi and Sunni forces clash
BAGHDAD (AP) — Iraqi security forces backed by helicopters raided a Sunni protest camp before dawn Tuesday, prompting clashes that killed at least 36 people in the area and significantly intensified Sunni anger against the Shiite-led government.
The fighting broke out in the former insurgent stronghold of Hawija, about 160 miles north of Baghdad. Like many predominantly Sunni communities, the town has seen months of rallies by protesters accusing the government of neglect and pursuing a sectarian agenda. Prime Minister Nouri al-Maliki swiftly announced the formation of a special ministerial committee to investigate what happened in Hawija, underscoring the government's concern over the incident.
Men charged with plotting attack
TORONTO (AP) — Two men faced bail hearings Tuesday after their arrest on charges of plotting a terrorist attack against a Canadian passenger train with support from al-Qaida elements in Iran, authorities said.
Raed Jaser, 35, made a brief appearance in a Toronto court room and was told to appear in court again next month. He was accompanied by his parents and brother. Jaser was given a new court date for May 23 and did not enter a plea, and the court granted a request by his lawyer, John Norris, for a publication ban on future evidence and testimony.
Jaser's suspected accomplice, Chiheb Esseghaier, 30, was scheduled to appear in court in Montreal later Tuesday.
French embassy in Libya attacked
TRIPOLI, Libya (AP) — A car bomb targeted the French Embassy in the Libyan capital early Tuesday, wounding two French guards and a Libyan teenager in an attack that President Francois Hollande denounced as an assault not only on France but all countries engaged in the fight against terrorism.
Two years after the country's civil war, Libya is struggling to maintain security, build a unified army and reining in militias, which include rebels who fought to oust the country's longtime dictator Moammar Gadhafi in 2011.
It was the first such assault on an embassy in the Libyan capital. On Sept. 11, four Americans — including the U.S. Ambassador in Libya Chris Stevens — were killed when militants attacked the U.S. diplomatic mission on the eastern Libyan city of Benghazi.
No group has yet claimed responsibility for the attack on the French embassy.